Vol. 7 No. 52
Pick Hits
Off the Record
Smash Mouth - Self Titled
California's Smash Mouth appears to be attempting to stretch their welcome 15 minutes of fame into the next hour. With a relatively brief but bright career that has been dabbed with a handful of likable radio pop singles such as Walkin' On the Sun, All Star, and cover versions of Can't Get Enough of You Baby, and I'm A Believer, the band's third album doesn't stray far the formula. Smash Mouth is a sunny little pop rock record with, not including I'm A Believer, which was originally featured on the Shrek soundtrack, features another three or four radio gems that sound a great deal like their other hits. Your Man, She Turns Me On, The In Set and Sister Psychic are harmless, disposable, very catchy fun that doesn't aim or pretend to be anything else. Here's hoping they keep 'em coming, one hit at a time.
At the Movies
Ali
A poignant story about the life, fights, trials and triumphs of boxing legend Muhammad Ali, played by Will Smith. The movie begins with Ali's first title bout, continues through his conversion to Islam and finishes with his legendary 1974 Rumble in the Jungle clash with George Foreman. Smith gives a performance that reinforces the fighter's larger-than-life reputation. The result is a film where Ali's dynamic personality, engaging humor and undeniable courage are enhanced by the stunning fight sequences and Jon Voight's pitch-perfect recreation of Howard Cosell.
On Video
Evolution
Chaos breaks out when a meteor crashes on Earth, bearing one-celled organisms. The problem is that they begin evolving at a pace much faster than what happened on our world. Changes that took billions of years happen in one month. Sounding like a cross between Men in Black and Ghostbusters one can only expect fun, laughter and excitement. With an all star cast headed up by sci-fi fave and X-Files alumni David Duchovny, a glimmer of sci-fi wonder pops through the humor, which is a direct result of input from FX guru Phil Tippett, who seems to be genuinely having fun showing off these genetic possibilities.
The Buzz...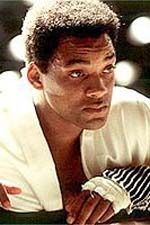 WILL SMITH STARS AS MUHAMMAD ALI
Ali, the Columbia Pictures biopic about Muhammad Ali, entered the ring Christmas Day, where it found itself duking it out with the current boxoffice heavyweight, New Line's The Lord of the Rings: The Fellowship of the Ring. Although Rings narrowly won the Dec. 25 card on points, both pictures enjoyed record-setting performances.
Harry Potter and the Sorcerer's Stone, which checked in at fifth place with a five-day gross of $10.8 million, won the biggest title of all. It now officially stands as the highest-grossing film of 2001, moving ahead of defending champion Shrek with $267.75 million taken in so far.
Actor Sir Nigel Hawthorne, best known for his Oscar-nominated work in The Madness of King George and his role as the scheming British civil servant in the BBC television series Yes, Minister, died Wednesday of a heart attack.
Sarah Michelle Gellar has chopped her long, blond locks for the January 8 episode of Buffy. According to a UPN press release, "In a moment of panic over her relationship with Spike, Buffy chops off her hair." But before you start thinking Buffy went and pulled a Felicity, which, you might recall, spawned a hair-raising media frenzy and the WB's infamous No haircut policy, reps for Buffy say the snipping wasn't quite so drastic.
No single film appears on all four best 10 lists drawn up by The Hollywood Reporter's U.S.-based film critics. Two films, however, Gosford Park, Robert Altman's lampoon of 1930s British manners, and In the Bedroom, Todd Field's intimate New England drama, appear on three of the four top 10 lists.
Clint Eastwood's 8-year-old daughter and his former girlfriend escaped a Christmas morning house fire.
Officials of the Miss America Organization say it has become too expensive to continue staging the event at Boardwalk Hall in Atlantic City and want $1 million in new subsidies. The Atlantic City Convention & Visitors Authority, which already underwrites the production with $678,000, is refusing to contribute any more money. Now Miss America Pageant CEO Robert Renneisen Jr. is threatening to move the whole operation to Nevada, Florida or Connecticut, site of the big Mohegan Sun casino, places where he said it would turn a profit.
Rob Zombie will be contributing his song Never Gonna Stop (The Red, Red Kroovy) to the soundtrack to the upcoming film Rollerball, due out in late January. Slipknot performs in the update of the sci-fi action classic and contributed the song I Am Hated to the soundtrack. The film is scheduled to open in theaters on February 8th.

The Recording Artists Coalition is stepping up to the mic to do some fund-raising for its own cause. The organization is putting together five high profile concerts at major Southern California venues. <![if !vml]>
<![endif]>The shows take place February 26, the evening before the Grammy Awards in Los Angeles. The Eagles, Elton John, Billy Joel, Dixie Chicks, Stevie Nicks and Sheryl Crow take over The Forum in Inglewood. No Doubt, The Offspring and Weezer claim the Long Beach Arena as their turf. Ozzy Osbourne, Korn, Rob Zombie and other artists rock the Los Angeles Sports Arena, while Clint Black, Trisha Yearwood and other country stars will perform at a venue yet to be announced.

Colorado Avalanche netminder Patrick Roy has become the first goaltender in history to reach the 500 win mark.
U2 lead singer Bono was voted European of the Year for his campaign for debt relief in developing nations in a poll conducted by the weekly European Voice.
The Coast Guard captain whose search-and-rescue efforts were depicted in the book and movie The Perfect Storm has retired.
With 73 homers and a record .863 slugging percentage, Barry Bonds has won the Associated Press Male Athlete of the Year for an unprecedented fourth time. Bonds won the honor edging three-time Tour de France winner Lance Armstrong. Tiger Woods, who won in 1999 and 2000, tied for third.
Yahoo! was notified by HotJobs.com Ltd., a Web site for employers and jobseekers, that shareholders considered its takeover offer more favorable than that of competitive bidder TMP Worldwide.
Limp Bizkit are ready to get in touch with their fans and maybe make a big star out of one of them. The band is about to take their search for a new guitarist on the road starting January 10 in Pollstar's hometown of Fresno, Calif. The Put Your Guitar Where Your Mouth Is tour will stop at Guitar Center stores in 23 cities around the States through February 11.