Pick Hits...
Off The Record...
A Punk Tribute To Metallica
Various Artists
Given the chance to make hay out of Metallica's catalogue, the punk bands herein not only handle their choices of material with real flair, they also slam down a lot harder on the beat than the masters themselves do. When the kings of old-school grind Flipper put the hammer down on Sad But True, they don't turn the stomping original into even more of a slog, but give the number more of a back-beat than it ever had. Being punks, the tempos are generally upped and the technique down, but sometimes the result is completely satisfying in a mind-blowing way.
<![if !supportLineBreakNewLine]>
<![endif]>At the Movies...
The Pledge
This is a police thriller in the 1950's about the retiring chief (Jack Nicholson) in a small town who promises a mother he will catch whomever killed her young daughter. Nicholson is at that certain place where he can act when he wants, and take time off when he wants as well. The result is a movie with all the elements of success and quality. There are hundreds of detective films and detective television shows, but there's none quite like this. Sean Penn shows off his directing talents.
<![if !supportLineBreakNewLine]>
<![endif]>On DVD...
Dinosaur
Disney's incredible CGI film about life in the age of dinosaurs, following the adventures of Aladar (a 30-foot-long Iguanodon) raised on an island by lemurs. When the island is destroyed by a meteor shower, Aladar swims for the mainland (with his lemur buddies on his back) and joins a herd of dinosaurs heading for the safety of an inland valley. The herd's trek is not without its problems. They're faced with hunger, thirst and predators, but in the end cooperation, tolerance
and bravery save the day. Visually stunning.
<![if !supportLineBreakNewLine]>
<![endif]>The Buzz...
Robert Downey Jr. may be inking a deal to appear on 11 more episodes of Ally McBeal. Downey, who has improved the lawyer comedy's ratings since joining 10 episodes ago, is reportedly heading back to the set next week, despite the fact that he may be returning to prison in relation to drug charges stemming from his November arrest.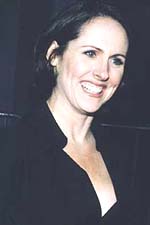 MOLLY SHANNON LEAVES SATURDAY NIGHT LIVE
Molly Shannon has announced that she is leaving SNL for the feature-film world after seven seasons. Her last appearance will be on NBC Feb. 17. Shannon has appeared in Analyze This, Dr. Seuss' How the Grinch Stole Christmas, and Mary Katherine Gallagher's feature film debut, Superstar.
A Christian school has banned the popular Harry Potter children's books from its library, saying the fantasy novels are too violent.
With viewers avoiding its older theaters, financially strapped Loews Cineplex Entertainment Corp. plans to close 112 aging movie venues in the U.S. and Canada, turning about 675 screens dark. That represents nearly 23 percent of its screens worldwide.
Despite the $15-$20 million rumored to be heading his way for a remake of Red Dragon, Anthony Hopkins is reportedly not psyched about reprising his role as Hannibal Lector a third time.

As much as he might want to be in the Jay and Silent Bob Strike Back production, it looks like David Duchovny won't be able to be in the Kevin Smith film.

In spite of the Blair Witch sequel's mediocre box office and critical lambasting, Artisan is moving
forward with plans to do a third film for their franchise. As planned, that film will be a prequel to the first film.

The Men in Black sequel may be released July 3, 2002.

Look for Angels, an hourlong series pilot from horror queen Anne Rice, this fall on NBC.

Charlton Heston has agreed to come on board the Tim Burton directed Planet of the Apes remake project, but for only one day of shooting. Heston will reportedly appear in ape make-up.

Jack Nicholson is ready and willing to play the Joker again for another Batman movie.

Soon after Tool announced on their website that their upcoming Volcano/Jive album is titled Systema Encéphale, they posted an update declaring that they have changed the name again. The album is now titled Evasion.

KISS' Gene Simmons is set to host a one-hour documentary called The Secret History of Rock 'N' Roll for Court TV.

Static-X are enlisting Dope guitarist Tripp Eisen to fill in for recently departed axe-slinger Koichi
Fukuda, who has left the band permanently.