Pick Hits...
Off the Record...
N Sync
Celebrity
This follow up to the record breaking (over 2 million copies sold in its first week of release) No Strings Attached shows the Florida based fivesome maturing along with their fanbase. Justin Timberlake and JC Chasez share co-writing and co-producing credits on 10 of the albums 13 tracks. The newest single Pop takes aim at their musical critics with a dance/rap attack that is well beyond the scope of the bands previous syrupy efforts. And the boys aren't alone, with talented support from producers Rodney Jerkins, Brian McNight and collaborator Max Martin (not to mention a notable harmonica solo thrown in by Stevie Wonder). N Sync makes a noble attempt to keep their mega-success rolling while advancing their musical horizons, a feat that has been near impossible for most former boy-bands.
At The Movies...
Planet of the Apes
Director Tim Burton gives this highly anticipated remake of arguably the best sci-fi movie of all time an updated plot mixed with cutting edge special effects. Mark Wahlberg stars as astronaut Leo Davidson, a reluctant hero that is alien to the present order and unaffected by its oppression, whom serves as a challenge to the status quo and as a catalyst for revolutionary social change. Thade (Tim Roth) is General of the ape army that is mounting a full scale campaign to exterminate humans from the face of the planet. Ari (Helena Bonham Carter) believes humans and apes can peacefully exist. It's been over 30 years since the original groundbreaking film that spawned 4 sequels, but it's social message is still as relevant and startling today as it was then.
On Video...
Sugar & Spice
When Diane, (Marley Shelton) a popular student and captain of Lincoln High's A-squad cheerleaders., gets pregnant with the star quarterback's baby, she turns to crime to support herself and her child. Fortunately, her best friends on the cheerleading squad (Mena Suvari, Rachel Blanchard, Sara Marsh, and Alexandra Holden) are totally supportive of her decision. Together they devise a plan for a series of major bank heists to benefit Diane's future financial security. Sugar & Spice moves along at a rapid pace with and abundance of gags that ensures that no joke overstays it's welcome. If you're in the mood for a helping of lite cheesecake, this is the one to grab off the shelf.
The Buzz...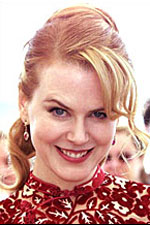 NICOLE KIDMAN IS
READY TO RUMBLE!
Nicole Kidman is reportedly furious with her soon-to-be-ex, Tom Cruise, over his just-revealed romance with Penélope Cruz. Apparently, Cruise repeatedly denied that anything was going on between him and his Vanilla Sky co-star.
Brad Pitt and Jennifer Aniston filed a $50 million lawsuit against the maker of their wedding rings, saying that Damiani International had breached an agreement never to reproduce the rings that were designed by Pitt for his million-dollar wedding to Aniston last year. The lawsuit seeks an injunction against Damiani to prevent the company from selling the rings and using the names and images of the Hollywood celebrity couple in its advertising.
Maverick Records, whose top acts include Alanis Morissette and the Deftones, has reportedly laid off several staffers. Bill Bennett, the president of Maverick Records, has resigned and five other staffers have been axed. The layoffs are attributed to deteriorating market conditions. Madonna runs Maverick as a joint venture with Warner Bros. Records.
Hong Kong action kings Jet Li and Jackie Chan will make their first film together for Revolution Studios. The project will be scripted by Robert Mark Kamen, who worked on Li's Kiss of the Dragon, which was co-written by director-producer Luc Besson. Li and Chan will also serve as executive producers of the untitled project.
Francis Ford Coppola is already prepping his next dream project, to be called Megalopolis, and he has a superstar cast in mind: namely Russell Crowe, Robert De Niro, Nicolas Cage (who happens to be his nephew), and Paul Newman. Coppola stated that although the film is set in New York, it'll be a Roman epic of Cecil B. DeMille proportions. He projects that it will cost around $60 million, but no more than $80 million. Will that even cover the actor's salaries?
Citing a family emergency, sultry actress Famke Janssen has dropped out of her role in Men in Black 2. The X-Men actress, who was set to play the alien villain Serleena opposite Will Smith and Tommy Lee Jones, dropped out after just one day of shooting. Replacing her will be Lara Flynn Boyle of ABC's The Practice.
The dinosaur thriller Jurassic Park III was at the top of the food chain at the weekend box office, earning $50.7 million to claim the number one spot.
Online music sales will leap from $1 billion this year to more than $6 billion by 2006, according to predictions by Internet consultancy and rating company Jupiter Media Metrix.
Walt Disney Co. is buying the Fox Family Worldwide Inc. children's cable network for $3 billion in cash plus the assumption of $2.3 billion in debt.
Fatboy Slim was nominated for nine MTV Video Music Awards on Monday for Weapon of Choice, a video in which he never appears. Its sole star is actor Christopher Walken, dressed as a businessman who dances around an empty hotel lobby. Lady Marmalade, a collaboration featuring Christina Aguilera, Lil' Kim, Mya and Pink, received six nominations. Also getting six nods were 'N Sync's special effects-laden Pop and Missy Elliott's dance-oriented Get Ur Freak On.
There will no rats on ABC's reality shows this fall, but viewers should expect to see moles, network executives said Sunday. The Mole II, The Runner and two weekly editions of Who Wants to Be a Millionaire are among the reality programs ABC has set for the new season.
Stephen King will write and produce a network series, The Kingdom, drawn from a Swedish miniseries. The drama is planned for the 2002-03 season. The longtime King/ABC relationship has led to several miniseries including The Stand and Storm of the Century.