Pick Hits...
Off The Record...
The Cult
Beyond Good And Evil
The first thing that strikes you over the head right away is that this is indeed classic Cult firing on all cylinders, but also that the guitar sound has been beefed up and fattened to a fullness not previously associated with their recordings. The album kicks in with War (The Process), a song that works a Mountain-sized Mississippi Queen riff into a modern rock powerhouse, topped off with a ton of special effects courtesy producer Bob Rock, and feedback deluxe from Billy Duffy. There's a bit of distorted vocals for effect, but mostly Ian Astbury just belts it out in the soulful, bluesy, full-voiced splendor for which he is known. This is a true return to form for The Cult, one that modernizes their always majestic sound, while still cherishing the signature elements of their style that were uniquely their own. It's straight-ahead galvanized hard rock with soul and confidence, dynamics, excellent production, and superb performances.
At The Movies...
Lara Croft: Tomb Raider
Based on the mega popular video game about explorer Lara Croft (Angelina Jolie) and her plundering exploits around the world. She shoots, she runs, she jumps, she wears extremely tight t-shirts, you get the picture. Lara Croft's work takes her to dangerous and mysterious locales around the globe, searching for lost crypts from empires long since forgotten. From the frozen ruins embedded in a glacier within the Arctic Circle to a forgotten valley filled with supposedly-extinct creatures in South America's rainforests, Croft's adventures are one part treasure hunt and one part adrenaline rush. This film plays like a sexy female version of the Indiana Jones movies, a sure hit.

On Video...
Cast Away
A tour de force performance for Tom Hanks as a FedEx systems engineer whose life depends on time and speed who finds himself stranded on a deserted island when the plane he's in crashes into the sea. Now, of course, there is no modern time just the primordial passing of day into night and the constant struggle for survival. Hanks becomes a changed man as he learns how to survive and as he learns the difference between survival and living. It's a modern day Robinson Crusoe for Hanks and director Robert Zemeckis, who milk it all for what it's worth.

The Buzz...
Elvis Presley's 1976 blue Cadillac El Dorado Biarritz and John Lennon's 1970 Mercedes-Benz limousine were two of the cars that online auction house eBay Motors offered to the highest bidder. Other cars that were up for bid were a 2001 Buick Regal driven by Tiger Woods during the week of his Masters golf win, Tim Allen's 1960 Chrysler 300F convertible, Reggie Jackson's 1970 big block Chevrolet Nova and Jerry Garcia's custom 1994 Dodge Ram van.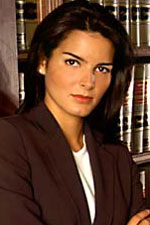 ANGIE HARMON WEDS JASON SEHORN
Former Law & Order actress Angie Harmon and New York Giants cornerback Jason Sehorn tied the knot in Dallas, Harmon's hometown. <![if !supportLineBreakNewLine]>
<![endif]>
West Wing creator Aaron Sorkin and star Martin Sheen had a bitter argument over Sorkin's drug use with Sheen threatening to quit the show if the producer didn't get help for a drug problem.

Survivor pig killer Michael Skupin saying he's considering a run for the U.S. Senate.

Nine Inch Nails is releasing a DVD and VHS edition of live film clips from the group's1999 Fragility Tour. The video will also feature a companion audio CD to compliment the footage.

Alice In Chains will be releasing a greatest hits album through Columbia on July 24th that will feature re-mastered versions of hits like Man In The Box, Them Bones, Angry Chair, Rooster, and Would.

Actor Bill Murray and his five brothers hope to cash in on the success of the classic golf comedy Caddyshack with their new restaurant at the World of Golf Village in St. Augustine, Florida.
Two film fans have filed a class-action lawsuit against Sony Pictures, saying they were duped into seeing A Knight's Tale by ads featuring praise from a phony critic. Sony has admitted that certain advertisements featured a quote from nonexistent film critic David Manning that declared the movie's lead actor, Heath Ledger, as "this year's hottest new star!"
The cast of the first Survivor has moved from a tropical island near Borneo to the urban jungle of law offices and courtrooms, where a battle is being waged over whether the show that captivated America was on the up and up. Three months after former contestant Stacey Stillman sued CBS and producers of Survivor, claiming the show was fixed, newly released correspondence and testimony from fellow player Dirk Been could prove to be a bombshell in the case. In a sworn deposition last month recalling his experience on the CBS series, Been said he was persuaded to change his mind and vote to oust Stillman at the suggestion of executive producer Mark Burnett, whose influence over contestants, Been said, "affected the outcome of the show in an unfair manner."

MGM has axed the sequel to the 1992 blockbuster Basic Instinct. The thriller had struggled to get off the ground since its inception, with several production delays, a directing switcheroo, and a slew of male stars who were either rejected by Sharon Stone or simply not interested in the part. Stone is now suing the producers, saying they reneged on a $14 million commitment to her
ABC's popular game show Who Wants to Be a Millionaire could soon be franchised into a daytime version. Executive producer Michael Davies confirmed that he was talking with Buena Vista Television executives about expanding the show into daylight hours.
The Eagles musical group has dropped a trademark infringement lawsuit over the telephone number and Web site address of a nonprofit foundation dedicated to saving the endangered birds.
Japan's best-known monster, Godzilla, can soon be seen on store shelves, in a can. Godzilla Meat, actually 3.5 ounces of corned beef from Tokyo toy maker Takara Co., is packaged with pictures of the stomping, fire-breathing, dinosaur. The cans, slated to appear in Japanese stores in October, will sell for $4.75.