Pick Hits...
Off The Record...
Travis
The Invisible Band
This year's most promising Brit-pop entry features the age-old charms of folkie strums, orchestral swells and a little banjo. Travis are opting out of U.K. pop's celebrity death match to focus attention on the songs. Frontman Fran Healy submits the rousing Sing and sunny Flowers in the Window for proof he's grown up and fallen in love; both songs, are very catchy. Elsewhere, Healy's unrelenting earnestness gets raised to new heights by his newfound confidence. His lesson-songs, including Side and The Cage, revive a near-dead tradition of the songwriter who thinks he's got something to teach us. The effort, if not entirely successful, is well worth the listen.
At the Movies...
Jeepers Creepers
After making a horrific discovery in the basement of an old abandoned church, Trish (Gina Philips) and her brother Darry (Justin Long) watch their routine road trip home from college turn into a heart stopping race for their lives. They find themselves the chosen prey of an indestructible force that relentlessly pursues them and gives a new and chilling meaning to the old song Jeepers Creepers. A definite step in the right direction in respect to the horror genre in films today, it's methodically paced with creepy undertones embracing the mood of this film filled with tension. Jeepers Creepers will remind you of films like Duel and The Texas Chainsaw Massacre. You will also certainly appreciate its old school mentality (no MTV soundtrack in sight!).
On Video...
Joe Dirt
A white trash comedy about a young man (David Spade) who is raised alone amidst the dumpsters of the Grand Canyon who goes on a journey from one end of America to the other in search of his parents, who abandoned him when he was a child. Along the way he takes all sorts of jobs, which set him up for all sorts of mishaps (including a stint with a psychotic American Indian, a janitor who's a hit man in the witness protection program, and a job at a Florida alligator farm). The whole adventure is related via a shock jock's (Dennis Miller) L.A. radio show. If you're a Spade fan you will really really enjoy this.
The Buzz...
Look for a second season of TNT's Witchblade starring Yancy Butler. The critically acclaimed series will see another 13 episodes produced in Toronto.
If you like the way Spider-Man looks in the upcoming movie, you'll dig the threads on Daredevil when he makes the rooftop leap to the big screen. The $60 million film is tentatively scheduled for release in 2002.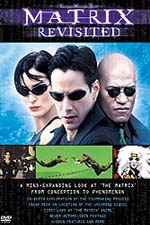 FANS OF THE MATRIX DON'T HAVE TO WAIT TILL 2003
Fans of The Matrix (and who isn't?) don't have to wait until the 2003 sequel for another fix. Nov. 20, Warner Brothers will release The Matrix Revisited on DVD for $19.99. It's touted as a supplement (don't look for the movie on the disk) it only contains bonus materials.
The WB network wants a pilot for a new Tarzan TV series. In the pitch from producer Laura Ziskin, Tarzan is 17 years old and is sent to live with his aunt in New York after being wounded by poachers in Africa.
If you are anxiously awaiting the new Marvel TV show Mutant X, you may have to look for it under a different name. 20th Century Fox filed a new motion to prevent Tribune Entertainment and Marvel from using the name, alleging it violates the studio's rights to develop a live action X-Men movie spin-off.
Fans of Tim Burton's Planet of the Apes remake may want to check out reruns of the TV series that spun off the original. The 1974 series will be available on home video and DVD Nov. 20. The series starred Roddy McDowell as Galen and Mark Lenard as Urko. The four-disc set will reportedly include all 14 episodes.
Angelina Jolie, Tomb Raider's Lara Croft, has been named a goodwill ambassador to the United Nations. Her focus: the plight of refugees.
Rumor has it that Billy Sheehan was recently fired from Mr. Big.
Stone Temple Pilots will perform at Come Together: A Night For John Lennon, an all-star tribute to the late, great legend to be held on September 20th at New York's Radio City Music Hall.
The Cult has been confirmed as the support act for Aerosmith's fall tour. Now that's a double bill worth slappin' down some cash for.
MGM announced that James Bond will be back driving an Aston Martin again in the next 007 film (as opposed to his recent BMW models). The 20th installment of the long-running franchise, starring Pierce Brosnan, is slated for release in 2002.
Nintendo announcing today that it's pushing back the North American launch of its next-generation GameCube system from November 5 to November 18. The move is a boon for Microsoft's Xbox console, which will now be available on November 8 without competition.
Phantom of the Opera star Michael Crawford is back on Broadway this season with Dance of the Vampires, a new macabre musical based on Roman Polanski's 1967 spoof, The Fearless Vampire Killers.
Sanctuary Records is announcing it has signed the hard-rocking quintet Tesla, and the first release will be the double live CD Replugged Live. Included are Tesla's biggest hits and fan favorites like Modern Day Cowboy, Heaven's Trail (No Way Out), Love Song, Edison's Medicine, and the cover of Five Man Electrical Band's Signs. Look for it in stores on September 11, 2001.
September begins Marvel's much-anticipated mature readers line, called MAX Comics. The moral equivalent of NC-17 and R-rated movies, MAX Comics promise mature themes and subject matter and, of course, more nudity, coarse language and violence than found in the average Spider-Man title. Launching the line are Alias, Fury, and U.S. War Machine.