Pick Hits...
Off The Record...
The Hellacopters
High Visibility
High Visibility is the fourth full-length album from Sweden's leading hard rock band and it is certainly their most slick and accessible. This 13-song CD is full of punk rock fury, heavy metal thunder and classic rock stylings. They may sound like classic rock that you've heard before but at least it's not the same sludge that's on the radio. In a world of Limp Bizkit imitators and second-rate grunge bands, a good old-fashioned rock n' roll band is a welcome breath of fresh air. Do people ever gets tired of a Gibson Les Paul cranked to 11 through a Marshall stack?
At The Movies...
Wonder Boys
A quirky comedy set in the exclusive and closeted world of academia, Wonder Boys starts on a low point in Grady's life, when his wife leaves him and his publisher arrives in town unexpectedly to claim the long overdue. However, an unusually long bout of writer's block prevents Grady from showing the much-anticipated new novel to anyone. And when things look like they cannot get any worse, he discovers that the chancellor, with whom he had been having an illicit affair, is pregnant with his child. A must see film due to the fact that it has an interesting plot and a script that is peppered with loads of wit and verbal comedy.
On Video...
Where the Money Is
Paul Newman is in rare form here as an infamous bank robber who feigns a stroke to break out of prison, landing at a nursing home and falling under the charm of Linda Fiorentino. Fiorentino plays an ex-prom queen working at the home, and she instinctively knows that Newman is faking it. She soon hatches a robbery plot of her own, and Newman is all too happy to oblige. Add in Dermot Mulroney as Fiorentino's loser-of-a-husband who joins in the caper as an odd-man-out and this film really takes off for a delightful romp through criminal mischievousness.

The Buzz...
It's official. Ray Park, who played Darth Maul in Star Wars has signed on to play the title role in Iron Fist.
ABC and the Disney Channel signed a $60 million deal with Universal Studios to lock up the broadcast rights to Dr. Suess' How the Grinch Stole Christmas for ten years.
Steven Spielberg, the director will be knighted during a January 29 ceremony at the British Embassy in Washington, DC.
Bruce Willis made it clear that he wants to do another Die Hard movie.
Mike Myers and director Jay Roach want to cast Sean Connery as the father of comic superspy Austin Powers. Set in the 1950s, the third Austin Powers film will be a prequel that finds Austin and Dr. Evil as rival classmates.
Papa Roach's upcoming Raid The Nation tour, is set to take off in late February with other acts rumored to include Fear Factory, Alien Ant Farm and Orgy.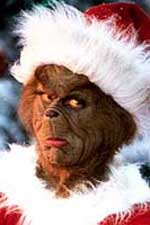 RON HOWARD IS
THE REAL GRINCH
Although Ron Howard has received studio pressure to make a sequel to the hit holiday film Dr. Suess' How the Grinch Stole Christmas, the director says that he won't do it.

Miramax had a great year in 2000, thanks in large part to the overwhelming success of Scream 3 and Scary Movie. Raking in $157 million domestically, Scary became Miramax's biggest moneymaker of all time.

Cameron Diaz is rumored to be the top candidate to play witch-turned-housewife Samantha Stevens in a big screen adaptation of the Bewitched sitcom.

The Walt Disney Co. is developing a sequel to the 1982 science fiction feature Tron.

Despite industry types worrying over the popularity of the song-swapping software, Napster didn't exactly dent CD sales. Y2K was the biggest sales year ever for the music biz.

Oasis frontman Liam Gallagher is more hated than Iraqi leader Saddam Hussein according to this year's annual popularity poll conducted by London's famous waxworks museum Madame Tussauds.

Britney Spears has revealed that the teen star is due to spend a couple of days in a recording studio with Madonna in May.
Fox TV execs came under fire when TV critics took them to task for green-lighting Temptation Island, a series that could hover dangerously close to the scandalous terrain of Fox's recent public relations nightmare, Who Wants to Marry a Multi-Millionaire.