Pick Hits...
Off The Record...
Godhead
2000 Years of Human Error
This post-apocalyptic, industrial Goth-rock quartet from Washington, D.C., is the first signing to the new Posthuman label. 2000 Years Of Human Error captures aspects of the band's live performance, while highlighting the growth of the band's radical programming talents that give Godhead its unique razor-sharp edge. Building their sound around the passion and musical proficiency of bands such as the Cure and Pink Floyd, Godhead uses modern electronics to create music that combines the best of the past and present.

Read it...
Ultimate X-men #1
This is a great introduction to the world of X for both newbies and die-hard fans alike. Your introduced to the newly formed team, their powers, and the mutant-hating world they reside in within the first 20 pages of the issue. Without delving too deep into each character's past, writer Mark Millar gives us a nice glimpse of their personalities, just enough for new readers to understand the characters, and not so much that long time X-followers will drop the book in boredom. Expect nothing but a comic loaded with tons of action and incredible artwork.
On DVD...
The Kid
A delightful fairy tale of a story about an image consultant (Bruce Willis) who through some quirk of time suddenly comes face to face with the 8-year old boy he used to be. For his part, the harried 40 year-old has trouble coming to grips with the boy he used to be and that he's tried to forget. The two eventually help each other resolve both their past and present, paving the way for a much better future. A fine family film though the time warping may confuse younger viewers.
<![if !supportLineBreakNewLine]>
<![endif]> The Buzz...
NBC is working with producers to deliver what the network is calling super-size episodes of Friends to compete with Survivor for the February sweeps. The four episodes will likely run about four to six minutes longer than a traditional episode.

Thanks to strong ratings generated by the premiere episode of Black Scorpion on the Sci-Fi Channel, Roger Corman announced that he'll produce and finance 44 additional episodes of the series.

Comedian Alan King will appear as a villainous Las Vegas casino owner in the Jackie Chan action-sequel Rush Hour 2.

Pamela Anderson has introduced the new PortaPam computer program that will allow fans to download a cartoon version of the former Baywatch beauty and current V.I.P. star to their digital organizers.

The World Wrestling Federation is putting together a new television series for MTV. Titled WWF Tough Enough, the 13-episode series will follow 12 men and women as they train to become wrestlers. MTV plans to the air the series this summer.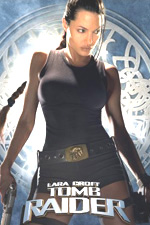 ANGELINA JOLIE WILL STAR IN TOMB RAIDER SEQUELS
Angelina Jolie confirmed that she would be appearing in two sequels to her yet-to-be-released action flick, Tomb Raider.

Artisan Home Entertainment announced that its March 13 release of Book of Shadows: Blair Witch 2 would be as a DVD/CD combo disc. This first-of-a-kind format would allow views to watch the film and extra features on the DVD side of the disc and listen to the movie's soundtrack on CD side.

Twentieth Century Fox has signed a merchandising deal with toy maker Hasbro and specialty marketer Applause to manufacture a line of toys based on the upcoming Tim Burton science fiction film, Planet of the Apes.

It looks like the Eddie Murphy claymation comedy The PJs is in dire straits yet again. Warner Bros. Television has decided not to help produce any new episodes of the show, claiming that it no longer makes economic sense for it to do so.

The Fox Network has ordered a full slate of 22 episodes of King of the Hill for the 2001-02
television season.

Britney Spears has signed on to star in a coming-of-age movie to be co-produced by her music label, Jive Records.

R.E.M. have finally put a name to the face of its upcoming 12th full-length studio album: Reveal.
The upcoming live Ozzfest album on Divine/Priority, tentatively titled Second Stage Live, will be a double CD set and is scheduled for a late March release.