Pick Hits...
Off the Record...
Bush
Golden State
Gavin Rossdale and company make the jump to Atlantic for their first studio effort since 1999's The Chemistry Between Us, and it shows them returning to the no-frills rock sound that fueled their 1994 breakthrough Sixteen Stone. The album jumps off to a strong start with The People That We Love, their current radio smash. More slam-dunk hits have yet to come starting with the set-opening Solutions, which builds from an introverted verse into a white-knuckled, guitar-drenched chorus, and Float, a dreamy rocker charged with an uplifting chorus about taking chances in life. Rossdale performs with enough passion to render the song an anthem for these troubled times.
At The Movies...
Harry Potter and the Sorcerer's Stone
Harry Potter has spent the first ten years of his life living under the stairs in the house of his aunt and uncle, who generally dislike him. Then, one day, a giant comes to him with an invitation to study at Hogwarts School of Witchcraft and Wizardry. Harry soon discovers that there are two worlds: one is the dreary world of the Muggles where he's grown up, and the other is one of magic and fantasy, and it's the latter in which he's destined to live. This is definitely a charming, entertaining transcription of the hugely popular novel by J.K. Rowling, miraculously faithful to its source and clocking in at an incredible two and a half hours. Even more incredibly, the film holds attention throughout and never flags in pace in spite of the fact that it is essentially a collection of incidents from the novel accurately reconstructed on film.
On Video...
Lara Croft: Tomb Raider
This slam-bam action film is based on the Lara Croft interactive game series. Angelina Jolie plays Lara Croft, a gorgeous heroine whose one goal in life, it seems, is to save the universe from the bad guys. She travels the world to find the broken pieces of a magical triangle and keep them from falling into the hands of a mystical cabal called the Illuminati. Why? Well, once every 5,000 years there's this solar eclipse when all the planets line up, and it will bestow godlike powers on the owner of the amulet. But she also has an ulterior motive to use the amulet to give her the powers to talk to her long-dead dad. Between the fantastic action sequences, you might get the feeling that Lara is really Indiana Jones in a push-up bra.
The Buzz...
George Harrison has checked out of a New York hospital after receiving treatment for a brain tumor. No one is commenting on Harrison's behalf, but hospital sources are saying the former Beatle will remain in New York over the next few weeks for outpatient treatment.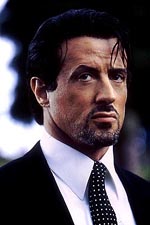 SLY WANTS TO BRING
BACK RAMBO
Sylvester Stallone wants to bring back his Rambo character for a fourth go-around, this time parachuting into Afghanistan to take on the Taliban and capture Osama bin Laden.
Fox is running a special episode of Malcolm in the Middle in TV's dream slot immediately following the February 3 broadcast of Super Bowl XXXVI.
Ozzy Osbourne is suffering a stress fracture in his leg and was forced to reschedule 10 dates on his co-headlining Merry Mayhem tour with Rob Zombie. The rocker got the injury after stepping out of the shower last week before a show.
Actor Forest Whitaker in talks to direct Fat Albert, a live-action film inspired by the main character of Bill Cosby's long-running cartoon, Fat Albert and the Cosby Kids. The film would hit theaters in summer 2003.
A second teaser trailer for the upcoming Star Wars Episode II: Attack of the Clones is available for download.
With potential leading man Nicolas Cage tied up with Constantine, it seems the Ghost Rider film project is stalled.
Linkin Park are planning to launch an annual headlining tour dubbed the Projekt Revolution tour in January that will feature rock, rap and electronic music.
Bon Jovi will perform alongside 'NSync, Christina Aguilera, Charlotte Church, and Harry Connick Jr. at the 2002 Winter Olympics closing ceremonies at the Rice Eccles Olympic Stadium in Salt Lake City on February 24th.
Harry Belafonte, Russell Simmons and Steven Van Zandt were honored for their humanitarian work at the Creative Coalition's 2001 Spotlight Awards.
Largely ignored by network television for many years, pop concerts have become a programming genre of their own. With specials from Michael Jackson and Garth Brooks already aired this week, NBC will present Jennifer Lopez on Nov. 20 and 'N Sync is on CBS Nov. 23. ABC gives Mick Jagger a prime-time hour on Thanksgiving, part biography, part performance.
Thousands of 'NSync fans flocked to South Beach to grab a seat at the band's free Veteran's Day concert. The show, which was expected to draw up to 250,000 fans, will benefit families of the victims of the Sept. 11 attacks.
Billy Crudup, the stage-trained actor who made his name on screen in such films as Jesus' Son and Almost Famous, will return to Broadway next year in a revival of The Elephant Man.
Billy Crystal is one of several Big Apple-based celebs that have shot commercials attempting to convince tourists to head back to the city. Along with Crystal, the six ads also star Robert De Niro, Woody Allen, Ben Stiller, Kevin Bacon, Barbara Walters, Yankee Hall of Famer Yogi Berra and former Secretary of State Henry Kissinger.
Ken Kesey, author of One Flew Over the Cuckoo's Nest has died at age 66.