Pick Hits...
Off the Record...
Everybody Got Their Something
Nikka Costa
Nikka Costa has one of those stories that sounds too good to be true. Daughter of superstar composer-arranger Don Costa, she grew up around vocalists like Tony Bennett, Sarah Vaughan, Paul Anka, and Sammy Davis Jr. On her U.S. debut, Everybody Got Their Something, Costa delivers on the promise that her brief Australian rock career revealed. She's got chops, she's got funk, and damn if she doesn't also wear her sexuality like a badge of honor. If the album's first single, Like a Feather, sounds familiar, it's because it spent most of 2000 promoting Tommy Hilfiger clothing on television. Check out this well crafted album ripe with emotion, attitude, and spirit.

At The Movies...
From Hell
An opium-addicted London detective (Johnny Depp) investigates Jack the Ripper while falling for prostitute Mary Kelly (Heather Graham) who was, in real life, the Ripper's last victim. Adapted from Alan Moore and Eddie Campbell's comic book by Terry Hayes and Rafael Yglesias and directed by brothers Albert and Allen Hughes, the film is stylish, visually inventive, and extremely well-acted. Satanic cultists, lovers of Goth, and few others will be able to stomach this dark and gruesome tale of England's most infamous serial killer, Jack the Ripper. Those crafty Hughes Brothers have finally landed a truckload of industry bucks to make a big budget hit.

On Video...
Cats & Dogs
Delightful family-friendly live action/animatronic/computer assisted comedy
about the age-old battle between cats and dogs. Except here the dogs are fitted with enough super high-tech gadgets to make James Bond envious. Enter Mr. Tinkles, a white Persian on his own mission, who wants to thwart human professor Brody (Jeff Goldblum) from perfecting an antidote for human allergies to dogs. To stop this evil gambit, the dogs send in a green-behind-the-ears beagle puppy to protect the family, and the action begins. This one belongs to the special effects, as the humans are here strictly for window dressing for the cat and dog antics.

The Buzz...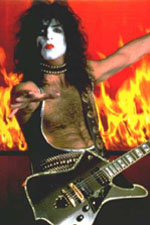 KISS FRONTMAN BUSTS A HIP
KISS was forced to drop out of their planned performance at the United We Stand concert in Washington, D.C., on Sunday after announcing that frontman Paul Stanley needs hip surgery.
Friends cast member Jennifer Aniston says she would love to portray Wonder Woman in the movies, while Sandra Bullock reportedly passed on the chance to play the part.

Look for Starwoids, which is a documentary from filmmaker Dennis Przywara who spent 42 days in line to see Star Wars: Episode I, (can you say looser) new on video and DVD from Film Threat.

Watch for Robin Cook's Acceptable Risk, starring Chad Lowe as a medical researcher who discovers demonic forces. The movie premieres on TNT Sunday night at 8 pm ET.

Warner Brothers Television and Tollin/Robbins Productions are working on the concept which centers on Oracle (from Batman) and Black Canary as well as other female DC characters.

You'll soon see more of D.J. MacHale, creator of Nickelodeon's Are You Afraid of the Dark series. MacHale will create a pilot for Nick of The
Strange Legacy of Cameron Cruz, a live action mystery series about a 14-year-old boy who inherits his grandfather's supernatural investigation business.

So far, Fox is winning a tug-of-war with ABC over a remake of the 1966 sci fi TV series The Time Tunnel. The network reportedly will produce a pilot and pay a seven-figure penalty if it doesn't proceed with the series. ABC execs have approached creator Irwin Allen's widow, Sheila, and say they'll match or exceed Fox' offer.

Look for Uma Thurman to high-kick her way through Kill Bill, the upcoming Quentin Tarantino film. Thurman plays an assassin called The Bride, who is a woman shot and left for dead who has come back five years later with revenge in mind.

Beyonce Knowles, one third of Destiny's Child, is talking about joining Austin Powers 3: Goldmember. It would be pop/R&B singer's feature film debut. She'd play the female lead. Production on the film begins next month for a July 26, 2002 release.

A teaser trailer for Star Wars Episode II: Attack of the Clones will reportedly accompany Monsters Inc. which opens Nov. 2.

Bob Barker plans to leave The Price is Right, television's longest-running game show, following a primetime Price special next year.

New York City's own Dust to Dust has landed the coveted opening slot on Type O Negative's traditional Northeastern US Halloween tour. This news breaks just as the band came off the road on a stint with Dave Navarro.

Nicole Kidman's publicist is denying a report that her newly-eligible client is dating Counting Crowes singer Adam Duritz, stating "Nicole Kidman has never even in her entire life met Adam Duritz".

Despite earlier fears that the Oscars new venue wouldn't be up to snuff security-wise, the Academy of Motion Picture Arts and Sciences finally has given the go-ahead for next year's Oscars to be held at the new Kodak Theater in Hollywood.