Pick Hits...
Off The Record...
White Stripes
White Blood Cells
It's been hard to escape the thunderous buzz surrounding the White Stripes of late, and with the release of the Detroit brother/sister team's third outing, White Blood Cells, it's only going to get more deafening. There's been a healthy eruption of blues-flecked garage rock recently, but it's clear that guitarist/vocalist Jack White and drummer Meg White capture the style with a new grace and catchiness. Cells is an exercise in simplicity, the songs are built of endearingly sloppy guitar and drum movements, with Jack's soulful white-boy wail soaring over top, and minimal trimmings piano and backup vocals peek out on occasion, but there's no bass, and no studio trickery. The most obvious bursts of brilliance come in Fell In Love With A Girl and Hotel Yorba, but there's not much on Cells that won't inspire awe.

At The Movies...
John Carpenter's
Ghosts of Mars
The story takes place some 175 years in the future in a dusty frontier mining town on Mars. Small squads of police have been sent to transfer an extremely dangerous criminal, Desolation Williams, back to the main administrative Martian city, Chryse. Our heroine, Melanie (Natasha Henstridge), is second in command of this squad. What no one realizes is that mining operations have uncovered and disturbed the ruins of an ancient Martian civilization and unleashed a kind of spiritual doomsday defense system that will relentlessly destroy any alien presence inhabiting Mars. When the cops arrive at this remote outpost, no one but the criminals locked away in the local jail have survived, and the Martian Ghosts are determined not to let them get away. John Carpenter still has a large fanbase of moviegoers (hence the inclusion of his name on his films), so this will be one that people will be interested in for sure.

On Video...
Hannibal
Hannibal the Cannibal is back, and in full force. When we last saw Dr. Lecter (Anthony Hopkins), at the end of The Silence of the Lambs, he was on the loose, and this film follows him to Florence, where he's incognito as a museum curator. Enter one his prior victims confined to a wheel chair who's put a bounty on his head and an Italian inspector who wants some extra cash to keep his high-maintenance wife happy. Add in female FBI agent Clarice (Julianne Moore standing in for Jodie Foster), anxious to again confront the mad doctor, and you have the makings of another great psychological (and at times gruesome) thriller especially when the real bad guys meet their hideous doom.


The Buzz...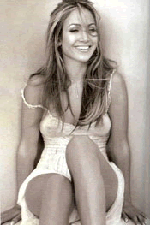 J-LO TO WED?
There is still no official confirmation that Jennifer Lopez and her boyfriend, dancer Cris Judd, are engaged. The twosome are supposed to have an engagement party in Hollywood at the end of August.
Asbury Park was greeted over the weekend by Bruce Springsteen with a surprise appearance. The New Jersey native got his musical start at clubs here and showed up unannounced Saturday at the two-day Clearwater Festival with a guitar and a harmonica. Springsteen put the city of on the musical map when he called his debut album Greetings from Asbury Park, N.J.
A set of 10 Marilyn Monroe photographs taken days before her death could not attract a minimum bid of $50,000 in an online auction. The prints, put up for auction by Alan Reid, 75, were to have been sold Aug. 16 and 17 on the Leland's Auction Web site, but no offer matched Reid's minimum price.
Mira Sorvino, denies that she and co-star Mariah Carey had a physical fight on the set of their upcoming movie Wise Girls. "We had one verbal argument, one day," the Oscar-winner quoted at a movie premiere.
Openings of $20 million or more for two female lead summer comedies mean that sequels are on the way. MGM's surprise hit Legally Blonde was quickly approved for a sequel after it opened at No. 1 with $20 million and cemented the box-office status of Reese Witherspoon. The actress is now worth nearly $5 million per film. Disney has announced plans for a follow-up to its family comedy The Princess Diaries, which opened with an impressive $23 million against such stiff competition as Rush Hour 2. Newcomer Anne Hathaway is expected to reprise her role of a San Francisco schoolgirl who discovers she's heir to a European throne.
Edward Norton will go up against Anthony Hopkins in the upcoming Silence of the Lambs prequel, Red Dragon. Norton will play Will Graham, the FBI agent who first exposes psychiatrist Hannibal Lecter as a monstrous cannibal, and then consults him while tracking another serial killer who is known as The Tooth Fairy for his fondness for biting his victims. Red Dragon was published in 1981 by Thomas Harris, before both The Silence of the Lambs and Hannibal, and takes place before the events in those better-known books, both of which were turned into box-office smashes in 1991 and 2001, respectively.
Fans of MTV's Total Request Live host, Carson Daly, will have to stay up late to catch his new gig as host of NBC's Later. Daly's Later gig is part of a three-year deal with NBC Studios. He'll also continue to host Total Request Live and his two syndicated music radio shows, notes the Reporter.
TV super producer Aaron Spelling is recovering at home after undergoing radiation therapy for a lesion in his throat. No word on whether the lesion is cancerous.
Planet of the Apes director Tim Burton is nixing sequel plans for his hit simian saga.
Marilyn Manson was charged with sexual assault on a security guard during a recent concert and faces a felony charge of criminal sexual conduct and a misdemeanor charge of assault and battery. The incident took place in Detroit.
Anime News Network is reporting that retailers around the net and offline alike are sold out of the Akira Limited Edition DVD.
Sigourney Weaver expressed her interest in returning for a fifth Alien film as Ripley if "they want to write a good script for another Alien film and give me $20m."
The cornet on which Louis Armstrong learned to play is going under the hammer. The horn had been on display at the Louisiana State Museum from the late 1970s until the mid-1990s. Sotheby's predicts it will bring up to $100,000 when it is auctioned online Oct. 1-15.