Pick Hits...
Off the Record...
Train
Drops of Jupiter
With its quirky vibe and laid back shuffle, Train's 1998 breakout hit, Meet Virginia, had the sound of a novelty hit. But Train's million-selling success is no fluke. These five regular San Francisco Joe's know a thing or two about the kind of midtempo, acoustic-based rock that makes for a smooth, radio-ready ride. And they're not messing with that formula on their sophomore release. Though never downright rough, the album offers edgy nods to the Doors, the Black Crowes and the Dave Matthews Band. And thanks to savvy, warm songwriting and production by Brendan O'Brien (Pearl Jam, STP), Jupiter runs rings around some of the blander radio fodder.
<![if !supportLineBreakNewLine]>
<![endif]>At the Movies...
Heartbreakers
Sigourney Weaver and Jennifer Love Hewitt show a lot of heart (and other body parts, too) when they act like Dirty Rotten Scoundrels with the boys. And even if most of the men here never really score, this goofy comedy does. Rather than teaching her daughter, Hewitt, how to bake brownies, Weaver has taught her the fine art of seducing men and taking their money. Hewitt's assets may be enough for a lot of moviegoers but it also contains enough effective comic material to warrant more than a single viewing. Funny, and inoffensive for the most part.

On Video...
Remember the Titans
A by-the-numbers drama about desegregation in an all-white high school in Alexandria, Va., and its effects on the school and its football team. Not only are black students integrated into the school and the team, but also the white head coach is demoted to make room for a new coach Denzel Washington. The students and the coaches have to work together and overcome their differences to triumph on and off the field. A real audience pleaser, that's based on a true story.
Washington puts in an outstanding performance.
The Buzz...
Britain's biggest toy retailer said it would refuse to sell a doll of rapper Eminem because it did not fit with its family image. The doll, which features the singer's trademark chainsaw, tattoos and the words cut here scrawled on the neck, were due to arrive in Britain from the United States this summer.

CBS is making big changes to Big Brother. Execs are mum about details, but the network's Web site Monday started hyping a totally revamped new edition of the reality series.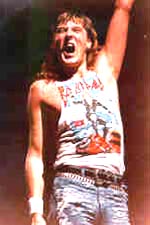 DEF LEPPARD STORY ON VH1
Shooting for VH-1's docu-drama biopic Hysteria: The Def Leppard Story will be shot in April and air in July. The two-hour film will focus the era between 1978 and 1985 and is being produced by Madonna's film company MadGuy.

Boy Hits Car have been dropped from the Ozzfest line-up due to overbooking by the festival.

Bon Jovi will perform at a mass wedding of 75 couples next month at Las Vegas Graceland Chapel, where Jon was married 11 years ago to high school sweetheart Dorothea Hurley. The band will sing their hit Thank You For Loving Me to the couples.

NBC Sports president Dick Ebersol is saying he might pull the plug on the XFL if ratings don't improve during the new football league's playoff games next month.

The World Wrestling Federation is buying World Championship Wrestling, its competitor for almost 20 years, after the struggling franchise's owner decided to take it off the air last week.

Dimension Films has acquired the rights to bring the gaming world's most testosterone-fueled hero to the big screen. Duke Nukem: The Movie.

Shania Twain and her producer-husband, Robert John Mutt Lange, are expecting their first child together.
<![if !supportLineBreakNewLine]>
<![endif]>Australia's defense minister is demanding an inquiry into how the air force spent hundreds of thousands of dollars flying contestants in the reality television show Survivor to a remote forest.
This is the year of the DVD player. Americans are snapping up the players faster than any electronics product in history. February sales, according to the Consumer Electronics Association, were 40 percent higher than last year.
The Grand Ole Opry radio show will return to its original home in downtown Nashville for a four-month stand starting in November.
Twenty-six years before Julia Roberts won an Oscar, her hometown dentist made a pledge to his young patients. If any of them won such a grand prize, he would give every child in Smyrna, Ga., a free tube of toothpaste. Dr. Ted Aspes has given out hundreds of tubes of mint-flavored Crest since Robert's Oscar win last week.
Battlefield Earth, starring John Travolta as snarling, nose-plugged alien, won seven Golden Raspberry Awards Saturday, putting it in a dead heat with the 1995 travesty Showgirls. Both stinkers are now tied for the non-profit group's record for the most Razzie awards.