Pick Hits...
Toy Box...
Child's Play 12-inch Deluxe Chucky Doll
He wants to be your buddy, but he's not coming back to the silver screen just yet. But in the meantime, he's a Specialty Market Exclusive toy coming to your town and wreaking havoc as the Child's Play 12-Inch Deluxe Chucky Doll. From the fright-flick series comes this super-detailed Chucky doll, dressed in his trademark blue denim overalls and featuring a shock of shaggy red hair. This doll is not going to be found in every corner department store. This is a one-time-only production run. Packaged in an illustrated window box, this is McFarlane Toys' biggest and best rendition of Chucky to date.

At The Movies...
Iron Monkey
Although this film was made in 1993, the film's
producers, released it direct-to-video in the USA in 2000. Now, after nine years, Miramax has finally acquired the theatrical rights. Loosely based upon the British legend of Robin Hood, this film is set in a 19th century China village. When a corrupt politician finds himself repeatedly robbed by a masked bandit, Iron Monkey, he forces a traveling physician into investigating the mystery and stops him by holding his young son in jail. The American action film has been slowly drowning to death in a sea of Asian wire-fu
copycats. It's not a pretty death, and it's leaving
the likes of Schwartznager, Stallone, and Van Damme wearing cement galoshes at the bottom of a kung fu sea. Iron Monkey is at its heart a hardcore, kung fu action film.

On Video...
Bridget Jones's Diary
A delightful, warm and witty film adaptation of the
best-selling book, about an overweight thirtysomething young woman searching for career and love in London. American Renee Zellweger raised eyebrows when she was
cast as the lead but she pulls off the role with zeal. Bridget Jones has simple goals in life: to lose weight, cut back on her drinking, and find true love. She's a publicist for a British publisher and has a habit of striking out with men, including a set-up date with the son of a neighbor, who snubs her. She eventually has an affair with her boss (Hugh Grant), but that too goes sour when she finds he's having another affair. When both men have a change of heart, so to speak, and come after her, she has to make a romantic decision. Touching and charming, this is a
great rent.

The Buzz...
Ben Affleck is in talks to star in the Daredevil based on the Marvel comic.

Oscar-winning actor Michael Caine is reportedly in talks to join the cast of Austin Powers 3: Goldmember. Caine will play Captain Hendricks, a Royal Navy security expert.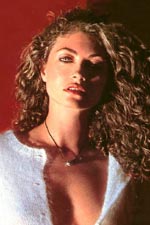 REBECCA GAYHEART
IN BIG TROUBLE
Urban Legend's Rebecca Gayheart faces manslaughter charges in the vehicle-related death of child. A Misdemeanor manslaughter charge will be brought against Gayheart, according to the Los Angeles City Attorney's office.

Rock legend Alice Cooper will run a haunted house in Phoenix, Ariz., with benefits going to Sept. 11 relief efforts. Admission is $13. For more information, visit www.frightened.com/faq.html.

X-Men's Hugh Jackman and Famke Jannsen are linked for lead roles in a Doctor Who TV show.

A teaser trailer for Men in Black 2 may appear with Ali, the boxer biography starring Will Smith, on Dec 7 and the Spider-Man movie in May 2002.

Video game maker Square will exit the movie business after disappointing box office returns from Final Fantasy: The Spirits Within based on its game series. The movie cost $80-$90 million but brought in only $30 million.

Star Trek's William Shatner will reportedly join the cast of American Psycho 2 along with That '70s Show's Mila Kunis.

Hole rocker Courtney Love is suing Geffen Records and surviving Nirvana members Dave Grohl and Krist Novoselic for control of the master recordings from late husband's band.

As expected, the NFL announced that Super Bowl XXXVI will indeed remain in New Orleans, but it will be held one week later, on February 3.

Both the Recording Industry Association of America and the Motion Picture Association of America is filing suit against MusicCity and other Napster offshoots for copyright infringement. Hurry and download all you can.

Nine Inch Nails will release the live DVD/VHS/CD And All That Could Have Been, which was recorded on the Fragility 2.0 Tour, on December 4th release through Nothing/Interscope.

Former Spice Girl Geri Halliwell followed in the
footsteps of superstars like Marilyn Monroe as she entertained some 7,000 British soldiers in Oman.

Yet another '70s show is being brought to the big
screen. Starsky and Hutch will feature Ben Stiller as Starsky, who will also produce.

Mary Hart will continue to report the news and
celebrity happenings for at least five more years for the television show Entertainment Tonight.

RCA Records will release a special Elvis Presley CD on Oct. 16 as a fund-raiser for disaster relief efforts stemming from the Sept. 11 terrorist attacks in New York and Washington.