Pick Hits...
Off The Record...
Whiskeytown
Pneumonia
This is the third and final full-length from boy-genius Ryan Adams and his ever-changing ensemble of cohorts. Originally intended as a double-disc set, this album was recorded three years ago at an abandoned church in Woodstock, N.Y., then disappeared into limbo amid the Polygram-Universal merger. Condensed to a 15-track single CD, Pneumonia finally sees the light of day as the inaugural release on Island-Def Jam's new Lost Highway imprint. Pneumonia is strongly reminiscent of Fleetwood Mac's Rumours; not only is each cut a self-contained gem, culminating in a consistently entertaining full-length, but there are several distinctive musical personalities at play. Pneumonia may spell the end of Whiskeytown, but what a way to go.
At The Movies...
The Princess Diaries
This is the story of Mia, a hip 16-year-old New Yorker, who is surprised to discover that she is the sole heir of the crown of the small European nation of Genovia. Now Mia's expected to take lessons from her newfound grandmother on how to be a princess. Can this big city girl get used to the life of royalty and responsibility? This sweet confection of a film goes down easily and is filled with many big laughs. It may not be the summer's most memorable movie, but it is a completely entertaining one. Most amazingly, it is a comedy for the whole family with a refreshing absence of bathroom humor. You can take your 5-year-old and her great-grandmother, and they'll both enjoy the picture just as much as you do.
<![if !supportLineBreakNewLine]>
<![endif]>Toy Box...
The Simpsons: Evil Krusty The Clown Doll
From the classic Treehouse of Terror episode of The Simpsons comes the ultimate in possessed playthings, Evil Krusty! Standing 14" tall, the otherwise well-mannered and beloved TV clown actually has two sides, one good, one evil. Throw the switch hidden in his back, and Krusty switches his five friendly phrases, to five fearful phrases. Krusty features a roto-cast head and plush body, and comes packaged in a window box. Scheduled to ship in September 2001. Check your specialty shops for this one. A must have for all Simpsons fans out there.
The Buzz...
Warner Bros. is encouraging Harry Potter fans to celebrate the fictional wizard-child's birthday. The studio has set up an electronic birthday card on its Web site for the upcoming movie Harry Potter and the Sorcerer's Stone, based on the first of the best-selling children's books by J.K. Rowling. Potter was born on July 31, according to the books.
The Roosevelt Warm Springs Institute for Rehabilitation has received an MGM Studios commissary lunch menu autographed in 1940 by celebrities including Judy Garland, Spencer Tracy, Lana Turner and Robert Taylor. Martin Harmon, spokesman for the Roosevelt Institute, said the rehab center might sell the menu to raise money for its programs for the disabled.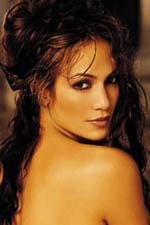 J-LO TO WEAR THE
GLASS SLIPPER?
Jennifer Lopez may slip her foot into The Chambermaid, a modern retelling of the Cinderella story directed by The Breakfast Club's John Hughes. The project originally was set up with Hilary Swank to star and currently has a tentative start date of winter 2002. The busy Lopez's next film could be either Gigli, opposite Ben Affleck, or the thrillers Taking Lives or Tick Tock.

Comic Caroline Rhea, a mainstay on Hollywood Squares and Sabrina, the Teenage Witch, is saying she will take over Rosie O'Donnell's talk show next year when Rosie steps down.

Keiko, the killer whale star of Free Willy, will likely remain in captivity for the rest of his life. His caretakers in Iceland say the whale is reluctant to join wild orca pods and prefers human companionship.

Lord of the Dance and Riverdance hoofer Michael Flatley has retired from dancing and is now going to focus on movies.

Producers for The X-Files have reconsidered making Agent Reyes (Annabeth Gish) a lesbian. The agent seemed on the verge of coming out to Agent Scully on last season's finale.

Former basketball oddity and sometime actor Dennis Rodman is refusing to pay an arbitrator's $225,000 award to an actress-model who claims he raped her. Rodman says the amount is excessive and wants the case to go to trial.

It's hardly surprising that advance reviews of Original Sin, the steamy romancer with Angelina Jolie and Antonio Banderas, are less than enthusiastic. The film has already gone through a name change (the original title was Dancing in the Dark) and two previous release dates.

Richard Gere is in talks to star in Emperor Zehnder, a biopic about the late adventure photographer Bruno P. Zehnder, who was best-known for his photographs of penguins.

The original cast of ER may dwindle again. Eriq La Salle, who plays short-tempered doctor Peter Benton, may follow Anthony Edwards in leaving the highly rated medical drama.

Pearl Jam have begun writing a new album and will return to the recording studio soon. In the meantime, they will play Neil Young's 15th annual Bridge School Benefit concert in Mountainview, CA in October.

Godsmack plan to host an exclusive event at the Playboy Mansion in Los Angeles where they will perform a special show for select fans that are flown out from each tour market. More details are to be announced in the coming weeks.
Christopher (Play) Martin, half of the old school rap group Kid 'N Play, is accused of failing to pay $32,277 in child support to his former wife.
Guy Ritchie is planning a remake of the Italian film Swept Away, in which his wife Madonna will star as a filthy-rich socialite who goes on a yachting holiday and begins an unlikely romance with a communist sailor. The original film, directed by Lina Wertmuller, was as much about the battle of the social classes as it was a romance.