Pick Hits...
Off the Record...
Tool
Lateralus
A disc that, according to many hard music freaks the world over, is the veritable Second Coming of music and the most anticipated album since the computers failed to turn the world off nearly a year-and-a-half ago. Overall, this is Tool 5.0, The Upgrade is louder, heavier, spacier, more complicated, less penetrable, and in general, more dense. Maynard sounds like he'll split at the seams in a grand moment of rock aggro. This is a record that holds your interest for nearly an hour and twenty minutes, provided you've got the time to get into and let it get into you. Though it can easily be tagged psychedelic and progressive, it's as modern as it gets. <![if !supportLineBreakNewLine]>
<![endif]>
At the Movies...
Evolution
Chaos breaks out when a meteor crashes on Earth, bearing one-celled organisms. The problem is that they begin evolving at a pace much faster than what happened on our world. Changes that took billions of years happen in one month. Sounding like a cross between Men in Black and Ghostbusters one can only expect fun, laughter and excitement. This weekend Evolution will go head to head with Warner Bros. Action Thriller Swordwish. Nevertheless the sci-fi comedy should bring in estimated $30 million on the weekend. <![if !supportLineBreakNewLine]>
<![endif]>
On Video...
The House of Mirth
Literary film based on the novel by Edith Wharton has a wonderful ensemble cast, headed up by Gillian Anderson (who sheds her X-Files skin here to make an excellent acting turn), exploring the treacherous world of New York high society in the early 20th century. Anderson plays Lily Bart, a ravishing socialite whose position in the rarified social world begins to dissolve when she makes all the wrong choices, in particular giving up love for wealth, getting involved with a married man and being falsely accused of having an affair with him.

The Buzz...
Madonna has recently had to take time off from rehearsals to chat with Alanis Morisette in a bid to keep the angst queen from leaving Maverick Records. Morissette is apparently dissatisfied with the promotion Maverick gave her album Supposed Former Infatuation Junkie and threatened to leave, tempted by other offers.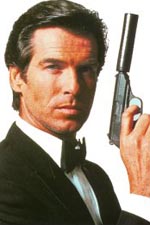 PIERCE BROSNAN NO LONGER 007?
The recent James Bond mainstay Pierce Brosnan has signed on for the next installment (tentatively entitled Bond 20), but it has been confirmed that it will indeed be his last. Slipping into the role of Bond in the near future may be British pop-superstar Robbie Williams.
While the band has offered the headlining slot for this fall's Family Values, Scott Weiland of Stone Temple Pilots says they will only do it as long as it's a great package. The lineup is still being ironed out, so STP hasn't officially accepted the offer yet.
The Producers, a musical satire of Broadway that makes fun of Jews, gays, old women, and Hitler, high-kicked its way to a record 12 Tony Awards Sunday night in what amounted to a coronation of the biggest theater hit in New York in 25 years.
The name of the game might come into play in the most literal sense when Survivor: Africa begins shooting in Kenya this summer. Security in the country as a primary concern for producers of the hit reality program.
Robert Downey Jr. has reached a tentative deal that will send the actor to rehab, rather than prison, for drug charges stemming from his November bust at a posh Southern California resort.
Model Kim Porter has asked a court to declare that Sean Puffy Combs is the father of her youngest child and order the rap mogul to pay her more child support.
EMI Music and online music company Roxio have entered into an agreement that will make it possible for customers to legally burn CDs of music downloaded from the Internet. It is the first time a major music label has taken a step to permit profit from CD burning.

Blockbuster is offering to settle 23 class-action lawsuits by customers claiming they've paid inflated fees for overdue video rentals and that the company profited unfairly as a result.

Martin Scorsese is joining Philips Consumer Electronics on a campaign to promote widescreen TV, which preserve films in their original proportions instead of formatting them for television. "The idea really is to educate the public to the reality that they're losing half the image," Scorsese said.

Animal rights group People for the Ethical Treatment of Animals says it enlisted Alec Baldwin and Richard Pryor to push Burger King to meet standards of animal welfare adopted by fast-food archrival McDonald's. The standards include refusing to buy from suppliers that use inhumane practices for slaughter.

Singer Janet Jackson's latest album All for You will remain on the banned list in Singapore unless an offending track containing the explicit lyrics "I just wanna touch you, tease you, lick you, please you, love you, make love to you" is removed.

Sherry Stringfield, an original cast member of ER who departed after the show's third season, has made a deal to return for the drama's next three seasons as Dr. Susan Lewis.

Michael J. Fox appears to be headed back to Spin City. A year after giving up his starring role on the hit ABC sitcom to focus on his battle with Parkinson's disease, Fox strongly suggests that he will return for a guest spot on the show this fall.