Pick Hits...
Off The Record...
Shelby Lynne
Love Shelby
This is as good as it gets and I mean good. Shelby Lynne has been hitting the studio for years, but only now is she getting the recognition that she deserves. At age 18, Lynne had moved from Alabama to Nashville where she became part of the modern country music machine. She recorded five albums for four different labels with none of them connecting to a mainstream audience. Well look at her now, everyone is raving about this album, and I'm sure the CD layout photography helps the matter. This album displays her ability to make spine tingling and sexy music. Her single Killin' Kind is part of the Bridget Jones's Diary soundtrack that was released in spring of 2001. Love Shelby is highly recommended as a stocking stuffer for the person who has everything.
At The Movies...
The Business of Strangers
Julie (Stockard Channing) is a hardened businesswoman on a lecture trip who becomes certain that her last day on the job draws nigh. When young Paula (Julia Stiles) arrives to a presentation late, Julie unleashes all her fears and frustrations on the hapless girl. Written with an ear for dialogue and a wicked edge, Julie's enthusiastic upbraiding of Paula sets the stage for three elements that drive The Business of Strangers to its conclusion. New writer-director Patrick Stettner seems to have taken on The Business of Strangers with admirable results. Stettner seems to understand perfectly that all you really need for making a fine movie is a sleek script, alert performers and a damn good eye.
On Video...
John Carpenter's Ghosts of Mars
A typical John Carpenter outing of gore and weird special effects meshing horror with science fiction. Its 2176, and Earth has populated Mars, mostly with strip miners. At one far-flung outpost, a contingent of Mars Police has been sent to track down a wanted criminal (Ice Cube), but instead of finding a populated work town all they find are ghosts. It seems that a long-dormant, evil Martian force has been set loose during a dig, and its on the prowl, turning everyone into, well, the walking dead, with a penchant for decapitation. So the Police, headed up by Natasha Henstridge, must take on the ghosts in a gruesome fight to the finish. Good scary fun, but this one is not for kids.
The Buzz...
Look for the high-flying Angel to appear on X-Men: Evolution, the Kids! WB animated series Dec. 15.
William Shatner will again play a gangster as he did the classic Star Trek episode A Piece of the Action. This time Shatner spoofs Goodfellas in a comedy called Dumbfellas.
John Byrne's next project, Lab Rats, will be another creator-owned series for DC Comics. Byrne will write, draw and ink the series, which he promises, will feature quite a bit of the 3D modeling fans seem to be taking a liking to.
Withering ratings under the power of the Kids! WB Pokemon series and the 24-hour Cartoon Network may force NBC and Fox to leave the kids' Saturday morning television market.
Scream director Wes Craven's next movie project is scheduled to be Pulse, based on a Japanese ghost story.
Hugh Jackman (X-Men's Wolverine) will host Saturday Night Live Dec. 8.
After The Flintstones and Scooby Doo, it was inevitable. The Jetsons will be made into a live action film.
Angel star David Boreanaz has married Jaime Bergman from Howard Stern's Son of the Beach.
ABC is snagging the television rights to the hit blockbuster Harry Potter and the Sorcerer's Stone and its sequel for an undisclosed amount, rumored to be between $60-70 million. It's considered to be one of the most expensive deals in TV history.
Country princess LeAnn Rimes is ending her yearlong legal battle with Curb Records and signing a new contract, the record company announced.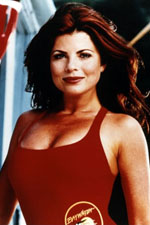 YASMINE BLEETH
IN TROUBLE
Former Baywatch beauty Yasmine Bleeth pleading guilty Friday to possessing less than 25 grams of cocaine and to driving while impaired.
Collectors Alert! A manufacturing error on Iced Earth's recent five-CD boxset Dark Genesis has resulted in the labels on four of the discs being mixed up. According to an official statement from the group, the CDs themselves play perfectly fine, as the mistake is just cosmetic. The only problem is that the label on each CD (except for Tribute to the Gods) does not correspond with the music on that CD.
VCR Alert! Shelby Lynne will be on Larry King Live December 18th.
While the Foo Fighters are hard at work in the studio recording their follow-up to There is Nothing Left to Lose, a few new Foo projects are in the works. The band's new tune The One to be featured on the soundtrack to the upcoming teen comedy Orange County is available for download on the band's Official Web site, foofighters.com.
Tom Cruise dropped a $100 million defamation lawsuit against a magazine publisher after the publisher stated he does not have a videotape showing the actor having sex with another man.
Dave Matthews Band took home four prizes at the second annual My VH1 Awards, a fan-based ceremony honouring everything from the year's best song to the best display of a musician's bellybutton.
The bus Rosa Parks was riding when she refused to give up her seat to a white man in 1955 will become part of a permanent display at the Henry Ford Museum after it is refurbished.