Pick Hits...
Caught in the Act...
Pledge of Allegiance
Featuring four of the most aggressive bands going, the Xcel Energy Center in Minneapolis was witness to an amazing spectacle. Local heroes American Head Charge set the pace, while Rammstein stunned their fans with the best pyrotechnic show in the business. System of a Down, one of the most controversial bands on the market today, nearly stole the show with a multimedia backdrop showing everything from Japanese anime to old fifty's black and white flicks of people dancing the jitterbug. Not to be outdone, the masked men of Slipknot came out and nearly caused the building to be torn down to the foundation. All and all an evening of extreme, kick you in your teeth, metal
At The Movies...
13 Ghosts
This is a remake of the 1960 horror film from the king of horror gimmicks, director William Castle. When Dr. Zorba dies, he leaves his house to his broke nephew, who moves in with his daughter. With the house come two unexpected pluses, the house has 13 ghosts which can only be seen with a special pair of glasses, and there's a fortune hidden somewhere in the house... and someone wants it. Producer Joel Silver has confirmed that there will be special glasses along with the film, but that they won't be 3-D, but a different type of tint or filter. A great scare to get you ready for the Halloween festivities.
On Video...
Angel Eyes
A romantic drama disguised as a cop suspenser, with Jennifer Lopez as a beautiful and intelligent Chicago cop who likes to hang with her male pals at restaurants and bars but has some difficulties with family matters (an abusive father and brother) and affairs of the heart (her trysts with civilian men leave her cold). Enter a strange man, Catch, played by Jim Caviezel, who comes to the policewoman's rescue when a thug almost kills her. He's a child-like wanderer of the city, but the woman is oddly drawn to him. What follows, then, is the story of their romance, told in a leisurely, emotional way. Forget violence and explosions, this is lush tale of love.

The Buzz...
The upcoming compilation album NASCAR/01 Full Throttle features a demo of Metallica's Fuel, alongside songs by Sammy Hagar, Creed, The Cult, and Motley Crue. The album is released by Hybrid Recordings in association with NASCAR, Turner Broadcasting, and NBC Sports.

Nicole Kidman reportedly turned down a role opposite George Clooney in Confessions of a Dangerous Mind because she wanted to take a break from movies, with her role going to Drew Barrymore instead. The actress will join forces with Anthony Hopkins and director Robert Benton for a movie set against the backdrop of the 1998 Clinton impeachment scandal as her next project.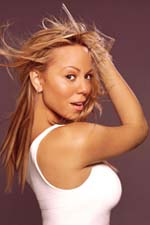 BIG BUST 'GLITTER' DOESN'T KEEP MARIAH CAREY
OFF ALLY McBEAL
Mariah Carey, whose star vehicle Glitter was a resounding flop, will appear in a guest shot on Fox's Ally McBeal. In an episode set to air Jan. 7, Carey will play a central figure in a lawsuit filed by a woman (Jami Gertz) annoyed by a matchmaking service that refunds her money and claims she's unmatchable. Carey will perform her song Lead the Way, which is featured on the Glitter soundtrack.
Britney Spears is pairing up with media giant AOL Time Warner Inc. to promote herself through America Online. As part of the pact, AOL's 31 million members will get exclusive online activities such as chats with the pop star, access to music and videos, and concert promotions with Spears during the fall.
Organizers of the weekend's three all-star benefit concerts said they should know by the end of this week how much money was raised for the victims of the Sept. 11 terrorist attacks. So far, the rough total is $17 million.
The Internet's top three companies will start encouraging other firms to adopt a system that will let parents restrict access to Web sites with content they find objectionable. The companies hope the system will ward off the threat of government regulation.
MusicNet, a joint venture among software maker RealNetworks and three major record labels, named MTV veteran Alan McGlade its new chief executive Monday.
ABC has canned The Runner, an eagerly anticipated reality TV show that was being produced by actors Matt Damon and Ben Affleck. The network said it was worried about how a series in which people try to hunt down a citizen, the runner, as he travels across the country would be received after the terrorist attacks.
Bestbuy.com has chosen recording artist Incubus and their anxiously awaited release Morning View for their premiere foray into advance album previewing with online pre-order. Available now exclusively through Bestbuy.com, fans who purchase Morning View are sent an e-mail with an account number which lets them immediately access the album online, on demand and in its entirety, prior to the album's arrival in stores on October 23rd. The album will be streamed in the Windows Media format.
Online toy store eToys, who gave up its name and Web site to KB Toys Inc. in bankruptcy proceedings in May, has been quietly relaunched. The site, which went live two weeks ago, will continue to focus on specialty learning toys, while kbtoys.com has a broader focus.
Apple Computer Inc. unveiled a portable digital music device that is as big as a deck of cards, but holds 1,000 digitally recorded songs.
ABC has inked a $25 million deal to promote the U.S. Military Academy at West Point through television specials and commercials.