Pick Hits...
Off The Record...
Shawn Colvin
Whole New You
This new collection from the folk-pop powerhouse with the gnomish voice immediately gets down to business. Front-loaded with commercial ammunition, Whole New You leads with two songs the Spanish inflected Matter of Minutes and the title number, which expertly renovates antique Sixties teen pop whose tasteful hooks catch and grab you. The rest of Whole New You is as professional, if less immediate. The contrast between Colvin's manner-free singing and the pristine arrangements by her co-songwriter and producer, John Leventhal, creates an interesting dance of the offhand and the strategic. In Another Plane Went Down and the curious Mr. Levon, Colvin's voice drifts through Leventhal's crafted ambient folk undertones like a pop dream.
At the Movies...
One Night at McCool's
Jewel is a beautiful drifter who attracts the undying devotion of Three men who tell their stories of how they love the same young woman, all around the setting of a bar called McCool's in a single night. Liv Tyler goes all out in low cut clothes and stiletto heels as Jewel. Part security seeker, part femme fatale, Jewel strings each fellow along until someone literally ends up dead. The real fun comes in watching Michael Douglas, the film's co-producer, put on a country-star wig and huge fake teeth to play the supporting role of Burmeister, a hit man with a fetish for bingo. A lot of effort went into breaking this comedy out of the formula rut, resulting in a fun and enjoyable film.
On Video...
Space Cowboys
Clint Eastwood's take on outer space has more in common with the Old West than science fiction, with four way over-the-hill Air Force test pilots from the 1950s called back into action to repair a Soviet satellite before it crashes to Earth. Outer space is just another vast prairie to these old-timers, who in their youth rode the planes that lead to the last frontier. It's a lament for lost youth in the way that a Western like The Wild Bunch equated lost youth with the end of the West, but here the Space Cowboys swagger in what was once a wild frontier but is now the province of government bureaucrats (NASA). And like Eastwood's other Westerns, the film takes its time, methodically and perfectly, to get its point across.
The Buzz...
Zeppelin singer Robert Plant will bring his new outfit, the Strange Sensations, to the Northeast and Midwest for a handful of performances in May and June.
Famke Janssen (X-Men) is in negotiations to star as the lead villainess in Columbia Pictures' Men in Black 2 for director Barry Sonnenfeld. MiB 2 will also bring back stars Will Smith and Tommy Lee Jones.
X-Fest is set to go off in Somerset Wisconsin on Memorial Day weekend this May. Among the featured acts for the yearly 3-day event are Days of the New, Nickelback, System of a Down, Fuel, Staind, Buckcherry, Fear Factory and Monster Magnet.
Former Diff'rent Strokes star Todd Bridges has been credited with rescuing a paraplegic woman after her wheelchair rolled into a Los Angeles lake. Bridges and his brother were fishing nearby and jumped in to pull the woman to safety.
General Cinemas movie theater chain says it will no longer give refunds to fans who come to see the trailer for Harry Potter and the Sorcerer's Stone and then leave the main feature early and ask for their money back.
Aerosmith have chosen Fly Away From Here as the second single from their recent album, Just Push Play, with a Joseph Kahn directed video in the works featuring a futuristic treatment. The band will head out on a summer tour, set to kick off in June.
Actors Josh Brolin, 33, and Minnie Driver, 30, are engaged but no wedding date has been set.
U2 frontman Bono has reportedly been asked to give away Christy Turlington at her wedding later this year to Ed Burns.
CBS and the producers of Survivor are suing Fox and the creators of Boot Camp, claiming the basic-training series is a rip-off of Survivor.
Bruce Willis' search for another project could be over. The actor has just been attached to the Warner Bros. thriller Cross Check. Willis would co-produce the flick and star as a private eye who has bitten off more than he can chew in the wilds of Canada.
That '70s Show star Mila Kunis takes a stab at the movies in American Psycho II. The Lions Gate sequel to the controversial thriller focuses on a college freshman (Kunis) who has formed a morbid obsession with Christian Bale's slasher character from the first film.
Former Sex Pistol Johnny Rotten, aka John Lydon, has landed a TV sitcom pilot. The onetime punk plays Death in FX's Bad News, Mr. Swanson.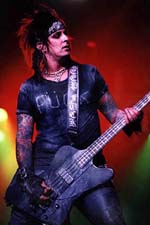 NIKKI SIXX DUMPS D'ERRICO
Motley Crue bassist Nikki Sixx filed for divorce April 13 from his wife, former Baywatch-er and Playmate Donna D'Errico, citing irreconcilable differences. The couple had been married for four years when they separated in January, shortly after the birth of their first child. Sixx seeks legal and physical custody of their three-month-old daughter.
In what could prove a landmark legal battle over musicians' rights, Courtney Love has filed a wide-ranging countersuit against her label, Universal Music Group, accusing the company of unrealistic contracts and corrupt business practices, not the least of which include hiding profits and fudging on royalties.