Pick Hits...
Off The Record...
3LW
With Big Plans 3LW, which stands for 3 Little Women, is comprised of 14-year-old Keily (a.k.a. Keylay Keylay), 16-year-old Naturi, and 17-year-old Adrienne. Like countless number of other girl groups, these lil' women also represent the merging of pop, R&B, and hip-hop music that seems to dominate the airwaves and the charts in the new millennium. Things seem to be going their way, and if their kickoff single, No More (Baby I'ma Do Right), which is burning up the charts and the airwaves, is any indication, these girls are well on their way to being the next big thing.
<![if !supportLineBreakNewLine]>
<![endif]>At The Movies...
Hannibal
Hannibal Lecter (Anthony Hopkins) is being stalked by one of his victims, Mason Verger, and Clarice ends up trying to protect him. There's more to it than that, but to give away more would be to give away too much. If you really want to know the rest, read the book. Realizing that Anthony Hopkins loved the script so much that he signed on to the project means we are in store for some good entertainment. A note to fans of the book: Prepare for slightly less sicko stuff and a surprise ending. Chilling entertainment.
<![if !supportLineBreakNewLine]>
<![endif]>On Video...
Elvis: That's the Way It Is, Special Edition
This rockumentry features a newly remastered and remixed version, available for the first time ever in stereo. The special edition includes close-ups of Presley's famous footwork and guitar work, cut-aways of the band, never-before-seen footage including 10 musical numbers, and Elvis' off-stage antics. As John Lennon simply put it once, ``Before Elvis, there was nothing.'' Twenty-three years after his death, the King continues to move audiences with his legendary music.
<![if !supportLineBreakNewLine]>
<![endif]>The Buzz...
The sequel to the monster hit Scary Movie is moving closer to production, well ahead of its scheduled July 4 release.

With principal photography on Harry Potter the film halfway completed, scribe Steve Kloves is already working on a script for the sequel.

In a first for horror master Stephen King, the best-selling author has adapted someone else's work for the big screen. King put his hand to Patrick McGrath's novel "Asylum" for Paramount Pictures.

The official Star Wars website has posted some glimpses of the amazing facial work that will be a
part of the Episode II licensed figures next year. Check it out at www.starwars.com.

Writer Chris Claremont's X-Treme X-Men will indeed be the third core book in Marvel's X-Men line, according to writer himself.

Bob Dylan will cover Dean Martin's "Return to Me" for an upcoming Sopranos episode, complete with accordion and Italian verses.

The California power crisis is spurring action film hero Arnold Schwarzenegger to contemplate running against Calif. Gov. Gray Davis.

Buena Vista will at last be releasing the dubbed version of the popular Hayao Miyazaki film Princess Mononoke to the general public on VHS.

The peacock network is close to giving the go-ahead for Spy Girl, a "romantic mystery drama" pilot about an Ivy League grad who joins a private investigation agency.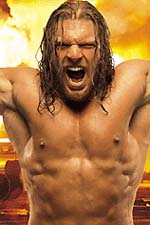 THE GAME HAS
NEW THEME SONG
Motφrhead will provide the theme song for wrestler Triple H on the fifth installement of the WWF the Music series on a track called "The Game." The album will be released February 20th.

Cheap Trick are mastering their latest studio album, which is likely to be released on their own label via their official website before hitting retail.

Marilyn Manson will head over to Japan for a series of dates on his Guns, God And Government tour.

In addition to the Metallica action figures that are on the way, McFarlane Toys will unveil toys made to the likeness of Kid Rock, Jerry Garcia, Jim Morrison and AC/DC's Angus Young.

AC/DC have been certified for sales of 63 million records, making them the fifth greatest-selling band of all time in the U.S., bested only by The Beatles, Led Zeppelin, Pink Floyd and The Eagles.

Metallica are rumored to have decided on Bob Rock as the producer of their next studio album. Rock has worked with them on several albums, including the infamous "Black" album, and should join the band in the studio this spring.