Pick Hits...
Off The Record...
Drops Of Jupiter
Train
Train's second full-length, pulls out of the station following much of the same formula as the band's last album with catchy, guitar-driven songs that lean more toward the rock side of the roots-rock hyphen. She's on Fire kicks off the album, led by the dual guitars of Rob Hotchkiss and Jimmy Stafford, each of them getting their funky little licks in. The result of this venture are songs remenicent of classic Journey. With a current single burning up the charts giving the band new exposure, Drops of Jupiter will be a breakout album for the band. Train has avoided the sophmore jinx, check this one out.

At the Movies...
Angel Eyes
A seemingly unlikely couple who cross paths under life-threatening circumstances as though they are destined not only to meet but to save each other's lives, not once, but twice. The story of a beautiful but complicated Chicago policewoman and the strangely frayed man she's drawn to, it's a moody, subdued date movie. Angel is primarily aimed at young adult women and teens, with far fewer of the contrivances that usually bombard the viewer in the reality-based romance genre. This combined with Jennifer Lopez's current star power should combine to achieve box office success.<![if !supportLineBreakNewLine]>
<![endif]>
On Video...
Pay It Forward
A heartstring-tugger about three fragile lives, a sensitive seventh-grader (Haley Joel Osment), his working-class alcoholic mother (Helen Hunt), and the boy's new social studies teacher (Kevin Spacey), who hides his emotionally scarred psyche behind his strong outer facade. Given a year-long assignment to do something about the world around him, the boy comes up with the idea of doing something good for others with the stipulation being that each person will in turn do something good for three others. Pay It Forward, as opposed to pay it back. This includes setting his mom up with his teacher. Old fashioned movie values prevail, with strong performaces from all the leads, Pay It Forward is a sweet and sensitive movie that doesn't bury the viewer with sap.
The Buzz...
Britney Spears is aiming to become next Lara Croft. Spears will soon cavort onscreen in her own video game, a PlayStation 2 title that promises to feature what the company behind it calls entertainment elements that have never been seen before.

In what will mark her first regular TV involvement since she began her career dancing in the Flygirl
ensemble of the Fox comedy series In Living Color, Jennifer Lopez has made a deal with NBC to star in and produce a special this fall.

NBC is adding a new comedy to its Thursday night prime-time lineup in an effort to fend off competition from the CBS hit series Survivor, and is planning a second weekly edition of game show, The Weakest Link.

Action movie star Jean- Claude Van Damme has gone vegetarian to get in shape for his next role.

For all you Star Wars fans desperate for your next opportunity to feel the force, French site Pages Persos has scored a number of excellent stills from Episode II. Check them out at
http://perso.club-internet.fr/willow/E2_004.html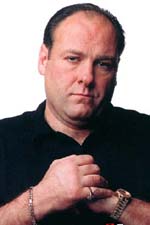 TONY SOPRANO UPSET?
James Gandolfini aka Tony Soprano has expressed he wants off the show because of the violence. Apparently, Tony killing his best friend Big Pussy was the last straw.

Police said Monday that supermodel Carmen Kass was recently ticketed for drunken driving in her homeland of Estonia and her name was released publicly as part of an anti-drunken driving campaign.
Chef Emeril Lagasse will star in an NBC comedy about his life this fall, and the network is counting on Weakest Link host Anne Robinson to abuse contestants twice a week.
RealNetworks Inc. will launch RealArcade, a platform for downloading and playing computer games.
Shannen Doherty is no longer leading a Charmed kind of life. The actress has left her WB soap about three magically inclined sisters. This departure is her second from an Aaron Spelling-helmed production: The 30-year-old actress got her start on Spelling's Beverly Hills, 90210 but was fired in 1994 after allegedly raising hell on and off the set.
The best movie at Cannes isn't in competition. Last year, that quote might have referred to Crouching Tiger, Hidden Dragon, which went on to win four Academy Awards, but this year, it applies to New Line Pictures' Lord of the Rings, which thrilled festivalgoers with an exclusive 26-minute preview of its risky, $270 million trilogy.
Black Sabbath have written at least five new songs so far for it's Rick Rubin-produced reunion album. One track that has been confirmed is called Scary Dream. In related news, Ozzy's solo album has received an October 16th, release date and features songs co-written with Foo Fighters' Dave Grohl and Foreigner's Mick Jones.