Pick Hits...
Off the Record...
Quiet Riot
Metal Health (re-issue)
This was the first metal record to top the Billboard charts. Quiet Riot was the first wildly accepted metal band in the Pop world and there are two
reasons for this, Metal Health and Cum on feel the Noize. The former song is one of the most basic but impossible to resist headbangers ever written. These are anthem songs that never fail to raise a smile if not a fist. We all know the songs and here they sound clean and fresh, no hiss - pop- buzz to deal with. The new tracks are truly a bonus. Danger Zone has never been released officially and the live version of Slick Black Cadillac has only just now made it to an American distributed disc. Fun, with a capital F and a needed component to any metal collection.

At The Movies...
Hearts in Atlantis
Hearts In Atlantis, with a screenplay by William Goldman, is based on a short story by Stephen King. Set in Harwich, CT in 1960, this is the story of Bobby Garfield, a fatherless 11-year-old boy who is befriended by Ted Brautigan, a strange man (Anthony Hopkins) boarding in the building Bobby lives in with his mother. Both Bobby and Ted are threatened by outside forces; Bobby by a gang of local bullies, Ted by men in yellow jackets he believes are out to get him. Hearts in Atlantis is a lovingly crafted, nostalgia-filled walk through memory lane. It is not all sunshine and roses, however, as the dysfunction of families, the growing pains of prepubescent kids, and an underlying mystery sweep over the proceedings. The film has a strange, menacing tone that works to lift it from a minor thriller to an interesting psychological drama.

On DVD...
The Simpsons: The Complete First Season
Fans can rejoice at the news of this first Simpsons DVD release. This is the entire first season (13 episodes) of the 10-year-old animated hit that is TV's longest-running current comedy series, plus tons of bonus footage and
an all new lost episode. Simply put this is another solid offering from Fox and they continue to set the example for the rest of the industry to follow.
I am also of the opinion that the only way to offer long-running television series on DVD is one season per set. This method is not only cost effective for the collector but it is also sparing on the shelf space. As for the review of the first season, if I have to tell you, you wouldn't buy it in
the first place.

The Buzz...
A classic episode of The Simpsons has been pulled from syndication. The episode featured Springfield's most beloved family visiting New York City and the World Trade Center twin towers.

Friday night's heart-tugging, all-star, multi-network TV telethon, America: A Tribute to Heroes, raised more than $150 million in pledges from calls and from the Internet. A phenomenal 89 million total viewers tuned into at least part of the event.

The Bradys are headed to the White House. FoxTV has announced plans for a new small-screen adventure that takes the perpetually sunny suburban family to the White House. Gary Cole and Shelley Long have agreed to reprise their
roles as Mike and Carol Brady for the TV movie, The Brady Bunch in the White House.

The second season premiere of X-Men: Evolution will be Sat., Sept. 29 on Kids' WB!

The official site for the upcoming film version of Alan Moore and Eddie Campbell's From Hell has been updated with new photos. The Jack the Ripper thriller stars Johnny Depp, Heather Graham and Ian Holm. It opens Oct. 19.

Paramount Pictures has given Star Trek: Nemesis the command for warp speed.
Production will begin Nov. 28 on the tenth installment of the franchise with Stuart Baird (U.S. Marshalls) directing.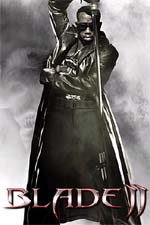 BLADE 2 COMING
MARCH 27, 2002
Production on Blade 2, starring Wesley Snipes, has wrapped and planning is well under way for a third in the growing franchise.

Look for a new Captain America #1 when that title relaunches under the Marvel Knights imprint next March.

Toy Vault plans to release toys based on Nickelodeon's popular SpongeBob

SquarePants cartoon. The manufacturer talked of plans at the Pre-Toy Fair. Three toy assortments are planned, all slated for fall 2002 release.

Producers of Survivor 4 are pulling out of the Middle Eastern country of Jordan as a possible site for the series in the wake of the terrorist
attacks. A network executive now says producers are considering Tahiti instead.

MTV is pledging to produce a documentary-style series tentatively titled Sorority Life, about the day-to-day life and drama of a sorority on a
college campus.

The highly anticipated Ozzy Osbourne/Rob Zombie fall tour has been forced to change its name due to copyright problems, from Black Christmas to Come All Ye Faithful.

Johnny Rotten's infamous ripped shirt with and No Future and Antichrist, Anarchy written on it from his Sex Pistol days was sold for more than $5,000 at a private auction in London on September 20th.

The West Wing's creator, Aaron Sorkin, is writing a special episode of the White House drama that is inspired by the devastating real-life events. NBC announced Friday that work on the episode, titled Isaac and Ishmael, has begun and that post-production will be crunched to make the Oct. 3 broadcast.