Pick Hits...
Off The Record...
Semisonic
All About Chemistry
In 1999, guitar pop made a return to Top 40 radio with Closing Time, a simple song about calling it a night at the local bar. The tune broke Semisonic and dragged its second album, Feeling Strangely Fine, kicking and screaming to platinum status. Now the Minneapolis trio has returned with All About Chemistry which flashes of pop brilliance. Things kick off with the first single, Chemistry, a beautifully constructed pop song designed to be blasted out of your car radio on a sun-drenched summer day. Check out this pure-pop sugar rush.
At the Movies...
Joe Dirt
Radio station janitor Joe Dirt (David Spade) tells a DJ's audience about his search for his white trash parents years after he was abandoned during a trip to the Grand Canyon when he was 8 because he was an obnoxious little boy. The film is told in flashback recounting his life story and search for his parents. (Kid Rock plays the rival Dirt had to compete with for the attention of the love of his life as played by Brittany Daniel). Schmoes are just naturally funny, so if you enjoyed Deuce Bigalow and Waterboy, you will enjoy this. Sure, the critics will hate it, but Spade is just charming enough to pull this one off.
<![if !supportLineBreakNewLine]>
<![endif]>On Video...
Girlfight
Diana (Michelle Rodriguez) doesn't fit in at school or at home. When she takes to the ring, Diana wants nothing more than to show she belongs with the boys. Unlike many movies, Girlfight does not overtly bombard viewers with a call for women's equality. Instead it brings us into Diana's world and shows us why we should be cheering for her and her crusade to simply be able to fight with the boys. Many of the most beautiful films ever made are about the brutal sport of boxing. Martin Scorsese's Raging Bull instantly comes to mind, as does Rocky. You can now add Girlfight to the list. The sounds are equally amazing, further creating a marvelous non-stop rhythm.
<![if !supportLineBreakNewLine]>
<![endif]>On DVD...
Alien Nation
The Alien Nation DVD is a modest but satisfying package, providing a nice-looking 2.35:1 aspect ratio transfer of the film, with 4.1 surround and two-channel surround as English language sound options, along with a dubbed French surround soundtrack. The extras on the disc include a
moderately interesting seven-minute featurette that's heavy on clips from the movie, three-and-a-half minutes of behind the scenes footage that show how a scene is mapped out, rehearsed and then filmed, the movie trailer, three television advertisements for the movie, and five trailers for other Fox sci-fi films. Not a bad selection of features for a low-profile DVD release.
<![if !supportLineBreakNewLine]> <![endif]>
The Buzz...
Actress Rebecca Romijn-Stamos, rapper LL Cool J and actor Chris Klein will host an ESPN awards show honoring athletes and musicians. The ceremony is scheduled to take place Saturday at the Universal Amphitheater and will honor athletes in snowboarding, skateboarding, motocross, BMX, skiing and surfing, as well as musical acts.
Burt Reynolds is the latest movie star to try his luck on the small screen. The Oscar-nominated actor will play a former pro football player in a comedy for CBS titled Late Boomers, about a group of middle-aged buddies.
An Italian-American legal group on Thursday sued the producers of cable TV's smash show The Sopranos, alleging that it paints Italians as born criminals. The suit against Time Warner seeks no money or modifications in the show, but asks a court to proclaim that the program violates the Illinois Constitution's guarantee of individual dignity.
Four Spider-Man costumes have been stolen from the Sony Pictures Studio lot in Culver City, CA. Filming will not be interrupted by the theft, and Columbia Pictures is offering a $25,000 reward for information leading to the safe return of the costumes.

Actress Tara Reid announced April 3 that she is postponing her May wedding to MTV veejay Carson Daly because she wants to get in as many acting gigs as possible before the impending actors strike.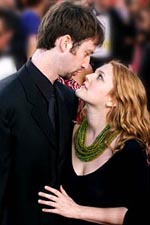 BARRYMORE & GREEN
TIE THE NOT
Drew Barrymore and beau Tom Green are officially married. Green told the paper they got hitched a couple of weeks ago. The couple has been fibbing about doing the deed for months.

Brad Pitt is in serious talks to star in an untitled sci-fi epic for Warner Bros, written and directed by Requiem for a Dream helmer Darren Aronofsky.

The producer of TV's Cops was arrested on drunken-driving charges while in Atlanta to meet with police to arrange the filming of a future episode of the reality series.

Tool has announced the four U.S. cities it plans to play before heading out for a European tour from May 15th through June 29th: Atlanta, New York, Chicago, and Detroit.

In a major online music coup, three of the five major record labels announced that they are uniting to form a new company called MusicNet that will license their music to subscription services on America Online.

When in Jamaica, No Doubt does as the Jamaicans do. The band members are kicking it reggae style as they record their fifth album.
NBC will shut down its loss-ridden Internet subsidiary, acknowledging that any hopes of it becoming profitable had vaporized along with the online advertising market. Many of the 300 jobs there will be eliminated as the unit's assets are integrated into NBC.
With pioneering music-trading Web site Napster crippled by court rulings, Microsoft, Yahoo!, Vivendi and others are rushing in to exploit what they believe is an emerging massive international market of online music downloaders.
The Los Angeles Times reported the president of the Academy of Motion Picture Arts and Sciences has offered a written apology to the group's sound branch over comments by actor Mike Myers during last month's Oscars ceremony. During the March 25 telecast, Myers presented the winners for best sound and sound editing while belittling the importance of the two categories.