Pick Hits...
Caught In the Act...
WLOL Wango Tango
This is the second time out for this annual event that promises to be a must see for the classic rock music lover. Brought to you by the good people at WLOL (100.3 in Minneapolis), this year's event drew close to 20,000 fans, enjoying performances from Loverboy, Eddie Money, Kansas and Styx. As festivals go, this was organized with remarkable precision, with acts appearing at said times, fantastic sound (clearer vs. louder), a beautiful setting (Canterbury Park) and a myriad of vendors and activities that appealed to all ages. Highlight of the show was an amazing performance by Styx, fronted by former Canadian solo artist Lawrence Gowan, who thrilled the crowd with hit after hit. To make sure you don't miss next years event, wlolfm.com will keep you in the know.
At the Movies...
Glitter
This is the story of a young singer, Billie Frank (Mariah Carey), who overcomes a turbulent childhood and struggles to find her true family and her true voice. Bilile is discovered by Julian Dice, a charismatic, irresistible bad boy deejay who soon becomes her partner, producer and lover. With Dice, she begins an exciting but often volatile and precarious journey as she struggles through both her personal and professional life, riding the roller coaster to superstardom with a tearful yet joyful climactic conclusion. As studios react to the World Trade Center and Pentagon tragedies, Big Trouble and Training Day have both been removed from release leaving this as the only theatre wide release, preventing this film from being completely overlooked.
On Video...
Spy Kids
Gregorio and Ingrid Cortez are your average married couple. They are a loving pair, caring parents...and retired world-class spies. When the diabolical host of a children's TV show plans world domination, the husband and wife team are sent into back into the fray. They are soon captured. Their only hope for rescue comes in the form of their two children, Carmen and Juni. Antonio Banderas, usually the suave romantic lead, puts in a charmingly kooky performance. Carla Gugino, fresh from her role on Chicago Hope, is perfect as Banderas' wife. In a blink of an eye Gugino goes from sexy Mahta Hari to Mom with out missing a beat. Alexia Vega and Daryl Sabara as the kids are just terrific. Spy Kids is fast-paced and diverting, the kind of film that will light up the eyes of a 10-year-old, without insulting their parent's intelligence.
The Buzz...
Marvel and Dynamic Forces are teaming up to raise money for the American Red Cross' relief efforts in New York City and Washington, D.C. Marvel will release the Captain America: 225th Anniversary of Independence lithograph with all proceeds donated to the Red Cross. To purchase the lithograph and help the American Red Cross visit www.dynamicforces.com.
Rory Culkin, younger brother of Macaulay and Kieran, will star in M. Night Shymalan's Signs, a sci fi story about crop circles.
Canadian children's icon Ernie Coombs passed away this week at age 73. Mr. Dressup's first show aired in 1967 and ran until 1996 on CBC. The kid in all of us will miss him.
Video game manufacturers are reacting to last week's terrorist attack by engaging in a round of self-censorship, pulling images of violent destruction from upcoming releases.
Film director Jan De Bont (The Haunting) may be making the move to the TV market with Eater, a sci fi miniseries for FX. The story centers on an astrophysicist and his wife who discover a black hole on its way to Earth.
Famed Italian tenor Luciano Pavarotti is pleading innocent to tax evasion charges in an Italian court. He's charged with filing false tax returns from 1989 to 1995 and faces up to three years in prison if convicted.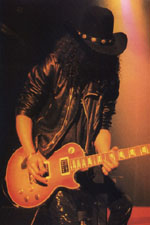 SLASH AXES SNAKEPIT
Slash has fired his bandmates and Snakepit is no more. The rest of the band is considering carrying on together under a different name.
Australian comic Eric Bana (Chopper) is in the lead to play The Incredible Hulk in the upcoming Ang Lee film.
In the tradition of 1985's fund-raising anthem We Are the World, Michael Jackson will one again lead an all-star collaboration song in an effort to raise $50 million for survivors and families of victims of the recent terror attacks. What More Can I Give, will feature Jackson alongside Destiny's Child, Nick Carter of the Backstreet Boys, Britney Spears, Justin Timberlake of 'N Sync, Mya and more to come.
Arista Records is rereleasing Whitney Houston's version of The Star-Spangled Banner, which became a unifying song for Americans during the Gulf War, in response to the terrorists attacks last week in New York, Washington and Pennsylvania.
Marilyn Manson will be filming his October 8th show at the Grand Olympic Auditorium in Los Angeles, CA for an upcoming live DVD.
Four Broadway shows will close for good this weekend, or earlier, if they can get union concessions, as ticket sales plunged following the terrorist attacks.
More proof that America is uniting in the wake of terrorist attacks: in a rare show of solidarity, the usually competitive Big Four networks, ABC, CBS, Fox, and NBC, are planning to simulcast a star-studded entertainment show this Friday to raise money for relief organizations. America: A Tribute to Heroes, a live two-hour, commercial-free program, will be simulcast from New York and Los Angeles from 9 p.m. to 11 p.m.