Pick Hits...
Off the Record...
Nickelback
Silver Side Up
With a top selling album debuting in the number 2 spot on the charts, Canadian artists Nickelback are proving that their superb debut wide release album State was no fluke. Silver Side Up shows the absolute depth that the band puts into its songwriting. From the radio fave and current chart topper How You Remind Me, through the massive riffs of Hollywood and Hangnail, there's no fluff on this disc, just a solid sustained effort from front to back. Nickelback aren't the future of rock n' roll, they are just right for what is needed now.
At The Movies...
Monsters Inc.
A young girl named Boo (voiced by Mary Gibbs) discovers that there really are monsters under her bed, and that there's a portal there that leads to the magical land of monsters. The monsters are assigned to scare the children every night and to collect their screams, which provides the energy the monster population thrives on. After Boo discovers the monster world, the two bungling spooks (voiced by Billy Crystal and John Goodman) who haunt her bedroom are exiled to Boo's world. This looks like another box-office winner for Pixar, the people behind the monster hit Toy Story, with a marketing effort that is reportedly one of the largest promotional campaigns in movie history. Beyond all the hype, Monsters Inc. is a sweet, charming and hilarious film.
On Video...
The Animal
When a police cadet (Rob Schneider) nearly dies in a car accident while driving through remote mountains, a strange beast rescues him, performing surgery on him in a barn, using animal parts as transplants. When he returns to civilization, he discovers that the influences of the animals within himself are causing him to behave oddly. Although Schneider's films will never be up for any Oscars, they are always fun viewing for the whole family, and this one is worth the rent for the animal antics alone. First season Survivor fans will be interested to know that Colleen Haskell play's Schneider's girlfriend.

The Buzz...
Weeks before Harry Potter's scheduled movie debut, the bookish boy wizard is working magic on retailers. Merchandise tied to Warner Bros.' Harry Potter and the Sorcerer's Stone, which hits theaters Nov. 16, has been available in stores for weeks, and merchants including Toys R Us and Kmart have been pressed to keep up with demand. Hot sales of Harry Potter games, puzzles, trading cards and other items are delighting stores that were looking ahead to a bleak holiday shopping season.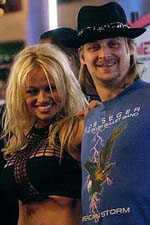 PAM & KID ROCK EXPECTING?
Pamela Anderson and her boyfriend, rap-rocker Kid Rock, have denied rumors that they may have a little one on the way. A rep for the former Baywatch babe says that Pam, who already has two boys courtesy of ex-rocker-hubby Tommy Lee, is not expecting.
Julia Roberts' million-dollar grin will light up Mona Lisa Smile, in which the pretty woman will play a free-spirited graduate of Berkeley who goes to Wellesley in 1953 to teach.
EchoStar Communications Corp., the company that runs the Dish Network, is poised to become the nation's leading provider of home satellite TV service after reaching a deal to acquire rival DirecTV from General Motors Corp.
A famed violin, a three-century-old Stradivarius that was lost for decades, has been purchased for $4 million by Joshua Bell, a modern master.
In its ongoing campaign to entice Latino viewers, the CBS soap opera The Bold and the Beautiful has hired former CHiP's hunk Erik Estrada for an extended guest stint starting Nov. 14.
Users of the instant messaging software built into Microsoft's newest operating system will be able to communicate effortlessly over the Internet with each other through a partnership with a company whose founder created Lotus Notes. In its new version, the Groove software can piggyback on Windows XP's Windows Messenger to allow people to work together.
Melissa Gilbert (Little House on the Prairie) and Valerie Harper (Rhoda, The Mary Tyler Moore Show) are competing for a different role, union boss. Both politics and celebrity are factors in the election for president of the Screen Actors Guild, which represents more than 98,000 movie and television performers nationally.
Courtney Love finished her Hollywood Bowl performance in a bathroom after local noise ordinances cut her concert short before she could debut some of her new songs. The public part of the performance ended around 11 p.m, but Love was not able to complete her set, only singing two of the four new songs she planned on debuting that night. So the 37-year-old singer gathered her band in a bathroom and played for the president of a major record label.
American Pie hottie Shannon Elizabeth joins several other celebrities in taping public service announcements designed to prevent hate crimes against Arab-Americans in this tense time. The pinup actress, who's currently in Thirteen Ghosts, has a Syrian father. She dropped her last name of Fadal when she started acting.
Serendipity's Jeremy Piven, who starred on the short-lived ABC sitcom Cupid, is getting a new TV vehicle to call his own, called Bad News, Mr. Swanson. The dark comedy will bow next spring on cable channel FX.
Jazz violinist Jean-Luc Ponty is bringing his musical magic to North American concert audiences in October and November 2001. He's touring to promote Life Enigma, his first solo studio CD in seven years.
Liam Neeson has agreed to star in the untitled prequel to The Exorcist