Pick Hits...
Tech Mate...
DataPlay
With Napster on the ropes, the record industry is pushing ahead with a new copyright-protected audio format aimed at replacing your CDs. DataPlay is a quarter-sized disc capable of storing between 250 and 500 megabytes of data roughly the equivalent of five full-length CDs. The discs can be played on drives that the labels and media companies hope will soon be installed on home audio equipment, computers, portable audio players and even digital cameras and portable hand-held devices like the Palm Pilot. The hope is that the format's convenience and giant storage capacity will convince consumers to convert to the new format, just as they abandoned vinyl for compact discs in the 1980s.

At the Movies...
Enemy at the Gates
With word of a Russian sniper, Vassili Zaitsev who is single handedly shooting dozens of German soldiers, expert Nazi sniper Major Koenig is sent from Berlin to Stalingrad to seek out and kill Zaitsev and any other snipers he might find. Soon, Zaitsev and Konig were locked in a duel of snipers, two men amidst the ruins seeking to put a bullet in the other's skull. Meanwhile, the sniper is also competing with a party official for the love of the Russian-American female sniper, Tania Chernova. This movie is very strong on historical fact, cementing how perfect this story was suited for film.

On Video...
The Little Vampire
A delightful and whimsical tale about an American boy (Jonathan Lipnicki) who moves with his family to the sprawling Scottish countryside, where he makes friends with a family of vampires whose lasting wish is to become human. The vampire family includes a cool teenage daughter and a pre-teen son, the latter who comes to the American's aid when he's picked upon by more burly Scottish schoolmates. The American, in turn, helps the vampires overcome a centuries-old curse. Suitable for all but pre-schoolers.
The Buzz...
Barbie's boy toy is no longer a boy. In fact, he's 40 years old. It was in March 1961 that the Ken doll was created by Mattel. He has been Barbie's boyfriend ever since. Ken, whose full name is Ken Carson and whose official birthday is March 13, has not let the couple's age difference come between them: Barbie is two years older. (For the record, her full name is Barbara Millicent Roberts.)
Basketball legend Michael Jordan says he does not plan to make a comeback despite current speculation to the contrary.
<![if !supportLineBreakNewLine]>
<![endif]>The sold-out Green Arrow #1 comic by Kevin Smith has reportedly caught the attention of Hollywood. Film producers are already sniffing around.

Universal Studios was bowing to pressure from Washington and dropping House of 1,000 Corpses. It's what's been happening all across H-wood lately as studios take the steps to not market R features to kids and make a lot more flicks come in at PG-13.
<![if !supportLineBreakNewLine]>
<![endif]>Regis Philbin, an eight-time Emmy loser as best talk show host, was nominated for a ninth time in that category. He also received a best game show host nod for Who Wants to Be a Millionaire, a trophy he shockingly lost last year.

The trade group representing major record labels has sent a list of 135,000 songs to Napster that the company must block from being swapped over its wildly popular Internet service.

Anthrax will be providing the score to John Carpenter's new sci-fi horror film, Ghosts of Mars, which stars Ice Cube and Natasha Henstridge.
<![if !supportLineBreakNewLine]>
<![endif]>Alice Cooper will open his Cooperstown entertainment and sports-themed bar/restaurant in Denver, CO this spring. <![if !supportLineBreakNewLine]>
<![endif]>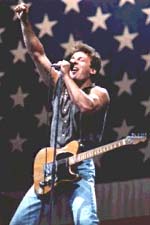 BRUCE SPRINGSTEEN BACK WITH THE E STREET BAND
Bruce Springsteen is recording again with the E Street Band, and one group member hopes a new studio album will follow. E Street guitarist Steven Van Zandt said that Springsteen and the band recently got together to record a studio version of American Skin and also fooled around with some other songs.
Bill O'Reilly has signed a six-year contract extension as his popular weeknight show The O'Reilly Factor has spearheaded a ratings surge for Fox News Channel.
The producer of this year's Academy Awards ceremony is making Oscar winners an offer he hopes they won't refuse, a 45-second limit on their acceptance speeches.
Although Benjamin Bratt is hot off the success of Miss Congeniality and a small role in Traffic, Sharon Stone has been hemming and hawing over whether to approve Bratt as her leading man in Basic Instinct 2, and Bratt has tired of waiting. Now the former Law & Order hunk is in final negotiations to star in the psychological thriller Abandon.