Pick Hits...
Off the Record...
New Order
Get Ready
Get Ready is the long awaited album from a group has been pushing the boundaries of music since the early 80's. Many of the new generation may know of New Order from their brilliant construction of electronic music and somber lyrics dance track, Blue Monday, which is the best selling 12" vinyl ever at 3 million copies. The modern rock group of the 80's brings back a bit of nostalgia with bassist, Peter Hook's trademark bass line treatment. The new album incorporates the punk energy of Joy Division and the progressive use of technology of New Order. The result is an aggressive guitar performance, serious drum kicks, hooky bass lines, and wonderful lyrics. Staying to true New Order fashion, the music is awesome and timeless, which explains its appeal to fans of all ages.

At The Movies...
Heist
A well told story of a gang of thieves, who are planning on that one big heist, a masterfully minded gold robbery. Gene Hackman plays Joe Moore, the rival to the leader of the gang who's seeking to take over. His fence, Bergman (Danny DeVito) reneges on the money he owes, and Moore's wife may be betraying him with the fence's young lieutenant. This film features charming, criminal masterminds going up against more sordid, not to mention foolish, operators, pulling off all manner of delightful double crosses along the way. The cast is brilliant, the plotting ingenious. Written and directed by Pulitzer Prize winner and Oscar nominee David Mamet. <![if !supportLineBreakNewLine]>
<![endif]>
On Video...
Legally Blonde
This surprise summer romantic comedy stars Reese Witherspoon as Elle, a soon-to-be-college grad pegged as a dumb blonde whose priorities are shopping, clothes, hair, nails and marriage. Her life is upset when her boyfriend dumps her because she's not good enough for him on his journey to become a U.S. Senator by age 30 after a stint at Harvard Law School. Devastated, but smarter than she acts, Elle bones up and enters Harvard herself to get her man, finding, however, that he's taken up with another woman. Now Elle must outperform her rival and win over skeptical law students and professors, eventually finding that her new personae is much more important than husband chasing. A wonderful family film moral tale.

The Buzz...
Fox's coverage of the World Series drew more than twice as many viewers as CBS' Emmy Awards and launched baseball's fall classic to its highest ratings in a decade. On what was one of the most competitive nights of television (about 68 percent of the nation was watching TV), the Diamondbacks' thrilling Game 7 victory against the New York Yankees averaged 39.1 million viewers making it the most-watched telecast in Fox's history, not counting its NFL broadcasts.
The Motion Picture Academy announcing 13 films including Monsters, Inc., Shrek and Final Fantasy have applied for the first Best Animated Feature Oscar. The academy will pare the list down to three nominees.

British film reviewers across the board giving all-around praise to Harry Potter and the Philosopher's Stone, the first film in J.K. Rowling's fantasy series. The film, directed by Chris Columbus (Home Alone), hits theaters in Canada as Harry Potter and the Sorcerer's Stone on November 16.

Tom Cruise is signing on to narrate the first-ever IMAX 3D space film, Space Station, which documents NASA's construction of the International Space Station. The film lands in theaters in spring, 2002. <![if !supportLineBreakNewLine]>
<![endif]>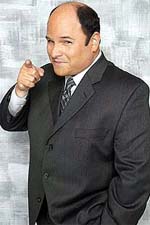 SEINFELD CURSE IN
FULL-EFFECT
ABC is axing Jason Alexander's much-hyped, but lowly rated sitcom Bob Patterson. Now it's up to Julia Louis-Dreyfus, whose new NBC comedy will debut in early 2002, to break the Seinfeld curse. Not one of the sitcom stars has had a successful follow up yet. <![if !supportLineBreakNewLine]>
<![endif]>
Hollywood stars Julia Roberts and Bruce Willis are landing in the new Guinness World Records Book. Roberts was named the highest-paid actress in a single film, getting paid $20 million last year for Erin Brockovich, while Willis made the most dough last year roughly $70 million. <![if !supportLineBreakNewLine]>
<![endif]>
Jazz saxophonist Spike Robinson, a fixture on the European and American jazz circuit after World War II whose melodic style was often compared to that of Stan Getz, has died at his home in southern England. He was 71.

J.K. Rowling, creator of fictional boy wizard Harry Potter, was beaten out by the Material Girl for the crown of Britain's highest-earning woman. The author of four Harry Potter books ranked second in the annual Pay List compiled by the Sunday Times newspaper, with an annual income of 24.8 million pounds. Madonna earned 30 million pounds to top the list, who qualified because she has a home in London. Queen Elizabeth II was the country's third highest earning woman, with income of 15.2 million pounds.

James Gandolfini and Edie Falco of The Sopranos took Best Actor and Best Actress in a Drama Series awards at the Emmys. HBO's Mob family series was beat out by NBC's West Wing for best drama series.

Computer-animated flick Monsters, Inc. scared off the competition, drawing a record $63.4 million over the weekend for the biggest November opening ever. It's also the top grossing weekend ever recorded for a Disney film, which is no small feat considering this was not a holiday weekend.
Richard Martin Stern, an award-winning author whose book The Tower was a basis for the 1974 action movie The Towering Inferno, has died. He was 86.