Pick Hits...
Off The Record...
Coldplay
Parachutes
After dominating British radio for the past several months Coldplay have finally made it across the pond with Parachutes, their subtly restrained debut album. Songs such as the opening Don't Panic become intoxicating concoctions that seep into the subconscious. The songs are filled with simple words sung with a pleading passion that command attention. The standout track is Yellow, a song that is jaw-dropping in its perfect blend of voice, words, and music. Check out this refreshing and ultimately brilliant premiere.
<![if !supportLineBreakNewLine]>
<![endif]>At The Movies...
Shadow of the Vampire
This film is a fictional depiction of the filming of the classic 1922 horror film, Nosferatu. As German director F.W. Murnau begins filming his version of Dracula, the cast and crew begin to wonder about the actor playing the vampire, one Max Schreck, especially as strange things happen on and around the set. Is it possible that Schreck is himself a real vampire? Expect costume, art direction, and cinematography nom's at the Oscars in 2001. Success and popularity both commercially and critically spill from this film, don't miss it.
<![if !supportLineBreakNewLine]>
<![endif]>On DVD...
Blowin' Smoke
David (Josh Hamilton) is a 23 year old university graduate, and stuck in a low paying nothing job at a shopping mall clothing store. When he's not at work, David spends his time hanging out with his semi-vegetable friend Freak, dreaming of various unattainable women, and trying to avoid his
away-at-college girlfriend. David seems to only want what he can't have. This is an intermittently hilarious and often quietly perceptive film full of laughs. Rent it or buy it, you will come away with a better understanding of the latest lost generation.
At The Movies...
Valentine
On a college campus, a group of four girlfriends ruthlessly humilates a nerdy kid. Ten years later,
physically transformed into a handsome, happening guy, he wreaks his revenge through seduction and unpleasantness, killing each of the women on Valentine's Day each year. Valentine offers some decent scares. The killer who wears a cherub mask is pretty freaky at times and reminding us a lot of Michael Myers, the killer from Halloween. So grab a date and have fun with this romantic horror thriller.

The Buzz...
Kevin Smith, the famed writer/director of Clerks and Mallrats, will be penning the adventures of Green Arrow with the first issue of the Emerald Archer's new series, shipping Feb. 28.
Napster, the controversial but popular music file-sharing Web site, will start charging users a membership fee later this year.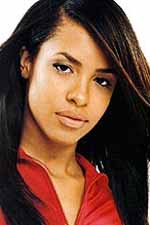 AALIYAH TO STAR IN THE MATRIX SEQUELS
The cast of the Matrix films is getting better-looking by the moment. Comely singer Aaliyah, who proved her acting chops in Romeo Must Die, has joined the sci-fi franchise.

Rich Fogel confirms he and Stan Berkowitz will be writers for the just-announced Justice League of America series for The Cartoon Network.

Scream and Friends star Courteney Cox reportedly threw husband David Arquette out of the house and is seeking a divorce.

Progress on the Ghost Rider movie continues with word of the script being nearly finished.

George Lucas promises the next Star Wars film will be character driven rather than just the showcase for special effects that Phantom Menace turned out to be.

The Cartoon Network will replace the voice actresses for its runaway hit Power Puff Girls even as the series heads to the big screen.

Old, the Disney fantasy film about two bratty teens who tease senior citizens until they become old folks themselves overnight, will be scripted by Cinco Paul and Ken Daurio of Bubble Boy.

Sarah Michelle Gellar, star of WB's Buffy, the Vampire Slayer says she'll leave the show if it moves to another network.

Creed are beginning to write their next album over the next couple of months. The band plans on heading into the studio in July and are shooting for an October or November release.

Korn bassist Fieldy is continuing his work on his rap-rock solo album, called Fieldy's Dreams, playing bass, guitar, keyboards, and singing on all the songs.

Rammstein's new album, Mutter, will be released on April 3rd.

Metallica's self-titled 1991 Black album will be released as a surround-sound audio DVD on February 27th. Is this the beginning of the end for CD's?

Michael Anthony says the new VH album will be a return to their classic sound but would not confirm who the new singer is. He did, however, confirm there will a summer or fall tour to promote the album.